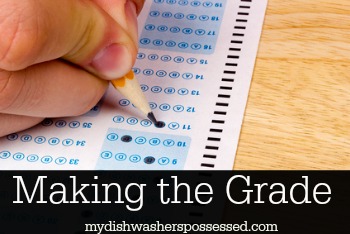 My cell phone rang and jarred me from my computer. I checked the time, I still had about 25 minutes to work before my kids started coming home from school.
I looked at the phone and saw it was my 17-year-old son. Strange, he should be in class. Hoping that there was no problem, I quickly picked it up.
"Mom, I got my math regents grade back."
With those few words, I could feel my heart start to pound. That darn test. Living in New York State, a student cannot graduate high school unless they pass at least five regents exams; one in English, one in science, two in history, and one in math.
For most students, who like my son work hard, attend class, and do their assignments, this isn't that hard. But for Tom, who is dyslexic, it is a hoop that some teachers and professionals have feared he would never be able to even attempt, never mind achieve.
My husband and I have always known our son was bright, even brilliant. He knew all of his numbers and letters before he was 18 months old. By the time he was four, he could tell you the names of all the U.S. presidents, the order in which they served, and the president that was in office the year you were born. His love of music was intense, and he could tell you every song the Beatles or Elvis recorded. He has always had a thirst for knowledge.
But Tom's dyslexia made school a real challenge. He always dramatically underperformed on the standardized tests that are used to evaluate a student's ability to achieve. But the results never represented what he was able to do in a classroom.
When Tom was four my husband and I decided to have him privately tested to see the scope of his learning issues. His preschool teacher needed to fill out an assessment of him. Under the line: What are the student's assets, the teacher put down his sweet personality and his desire to learn. Under his liabilities she named me. His mother. She felt that I did not have a full grasp of his issues.She gave this assessment despite knowing he had been getting a host of therapies since he was 18 months old.
Very early on we made Tom an important part of his learning team. We were honest with him about his issues, letting him know that there was nothing to be ashamed of. Some people learn differently. If he was willing to work, we would help him find a way to do as much as he could in his academic career.
When Tom was ready to enter the eighth grade, he wanted to take Spanish. Because he was exempt from taking a foreign language on account of his low standardized test scores, they would allow it only if he agreed to do it for no credit. My 13-year old-son looked at our district's chairperson for special needs directly in the eye, and said, fine, he would do it. He ended up getting the highest grades in the class and received the full credit.
Tom has maintained a B average throughout his high school career. He hopes to go to college for film. All that was standing in his way was this math test. He had taken it three times and did better each time, but he continued to fail. He was starting to get a bit tired of me saying this was a marathon not a sprint.
My heart broke each time we would get the failing results. Is it possible I'm wrong? Is this just one hurdle he won't be able to jump? Maybe his preschool teacher was right. I am his biggest liability.
"Mom. I got a 71 on the test. I passed Mom. I did it."
I would tell you what I said, but I have made it a rule to never use four letter words in my writing. I couldn't help it. I found myself cursing like a sailor. Then the tears started to fall. Then he started to cry.
Motherhood is full of times when you doubt your own instincts. When you wonder if you are pushing your child too hard or not pushing enough. For that one brief moment I knew, really, really, knew that everything we did to help our son achieve what he wanted was worth it.
"Mom, thanks. I love you. Thanks for believing I could do this."
For one of the few times in my life, I really had nothing left to say.