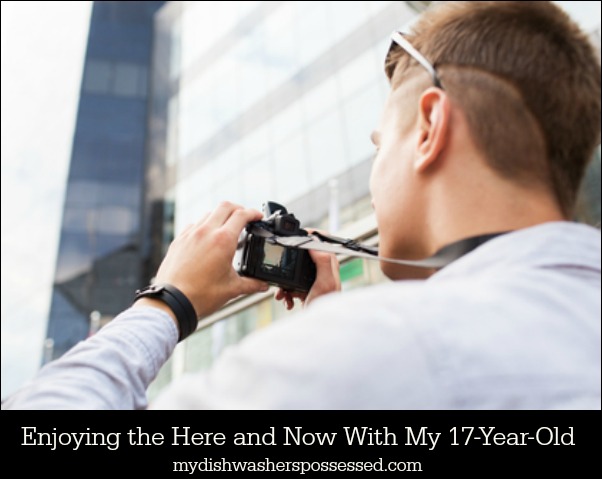 About a week before Christmas, my 10-year-old came off the bus and told me he was very sad. When I asked him why, he told me that it was because it was almost Christmas, and that meant that all the things he loved about the holiday season — the music, parties, and presents — would soon be over.
When I relayed the story back to my mother, she laughed and said, "Wow, he really is your son. That is exactly what you used to say when you were his age."
It's true. I have always had the tendency to mourn things even before they have started, whether it was a holiday, vacation, or even my wedding. The anticipation I felt about the event ending was so intense that I had a hard time just enjoying it because I was already feeling the loss.
Knowing that this was a part of my personality, I have done my best to suppress my nature when it's come to enjoying my children. (Therapy didn't hurt either.) Throughout their lives I have made sure to savor the feel of babies in my arms, toddler kisses, and childhood prayers. I wanted to enjoy every minute of my precious time with them.
Life with three kids can be hectic, and I know it caused more than a few of my hairs to go gray. But I love it. Motherhood is the one thing I have always felt I was meant to do. But my oldest, Tom, recently turned 17 and is now a junior in high school. My days with him feel numbered and rather than enjoy the ride, I find myself falling into old habits.
The boy I pushed in the stroller is now learning to drive. The little boy who would ask me to dry his tears before I left him at nursery school now kisses the top of my head as he leaves to catch his bus in the morning. It's tempting for me to focus my energies on giving him up to the world. I'm already thinking about next year, when he will be a senior, and his next birthday, when he will turn 18. In other words, I am having a hard time staying in the here and now.
For 2016 I'm making myself a promise. I'm not going to rush this time in Tom's life. I'm not going to spend the next year mourning the loss of my little boy. I am going to enjoy the person he has become.
I'm going to get off the computer when he comes home — deadlines be damned. I will sit with him while he eats a snack and listen to the details of his day before he rushes off to do his homework or takes refuge with his phone, friends, and music.
I will make sure to take him to lunch a few times during the year. We did this for his birthday, and it was so much fun to meet him at school and whisk him away for a quick Chinese lunch and then get him back to class. My mom used to do the same thing with me when I was in high school, and it's a memory I still cherish. I forget how lovely it is to just have time with Tom without my other two competing for my time.
I will make sure that I never give him the feeling that it's not anything but totally normal and wonderful that he wants to leave us when he is ready to do so. I am so proud of the man he is growing into.
Beyond proud really. He is moving into the time of life where there are so many possibilities. It can be so exciting, but it can also be scary. I know he will probably have some disappointments along the way. I want him to know that he is up for anything the world will dish out. Wherever he ends up, he can always depend on his dad and I to give him a soft place to land.
By changing the lens that I view his last years in high school, I hope to not only help my son grow, I also hope that I can enjoy this time for the beginning it is. Not the end I fear.