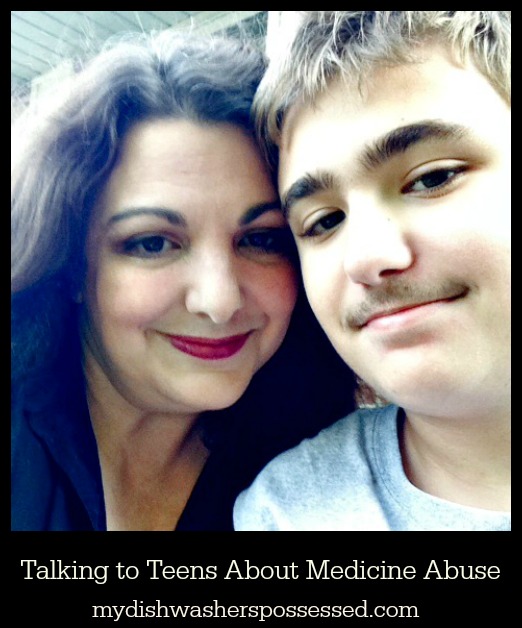 This blog post is sponsored by the CHPA's Stop Medicine Abuse educational program. I was compensated to attend the event but all opinions here are my own.
When I was growing up, I always enjoyed chatting over the kitchen table with my parents. I liked that I could complain about school or confess my latest crush over a glass of iced tea and a cookie, while they spent time with me. Now that I'm the mom, I'm very grateful that I have been able to keep up the tradition with my kids.
It was over one of these casual chats with my 16-year-old Tom, that I recently learned one of his friends had offered him a swig of cough medicine at school.
"Mom, I couldn't believe it. This was just what you wrote about last year, isn't it? About kids using cough syrup to get high? Isn't that funny that he asked me if I wanted any?"
I didn't find it funny. My first thought was about how disturbing it was.
My second thought was how fortunate I was that I had participated in the Consumer Healthcare Products Association's (CHPA) Stop Medicine Abuse campaign last year and learned about the dangers of teens using over-the-counter cough syrup in order to get high. Tom and I had spoken about what I learned. And, miracle of miracles he actually heard and remembered what I said!
So when I was asked to attend the webinar, "Inside the Teenage Brain: Is There an App for That?" last week and participate in this year's campaign in honor of October being, National Medicine Abuse Awareness Month, I was thankful for the opportunity to take part in something so important.
During the conference we learned that approximately 1 in 30 teens have abused cough medicine to get high and 1 in 3 teens in grades 9-12 knows someone who has abused cough medicine for that purpose. We also learned that research shows that teens who learn a lot about the risk of drugs from their parents are 50 percent less likely to use drugs. My conversation with Tom about his recent experience seems to be a perfect example of both of these studies.
Darby Fox, a child and adolescent family therapist and a panelist at the presentation, said, "A teenage brain is like a brand new Ferrari without any brakes." She went on to say that it's our job as parents to be the brakes. This message really resonated with me. I want Tom and my other two kids to feel comfortable sharing with me, and I love that we can enjoy our kitchen table chats, but it has always been so important to me that my kids know I'm not their friend. I am the parent.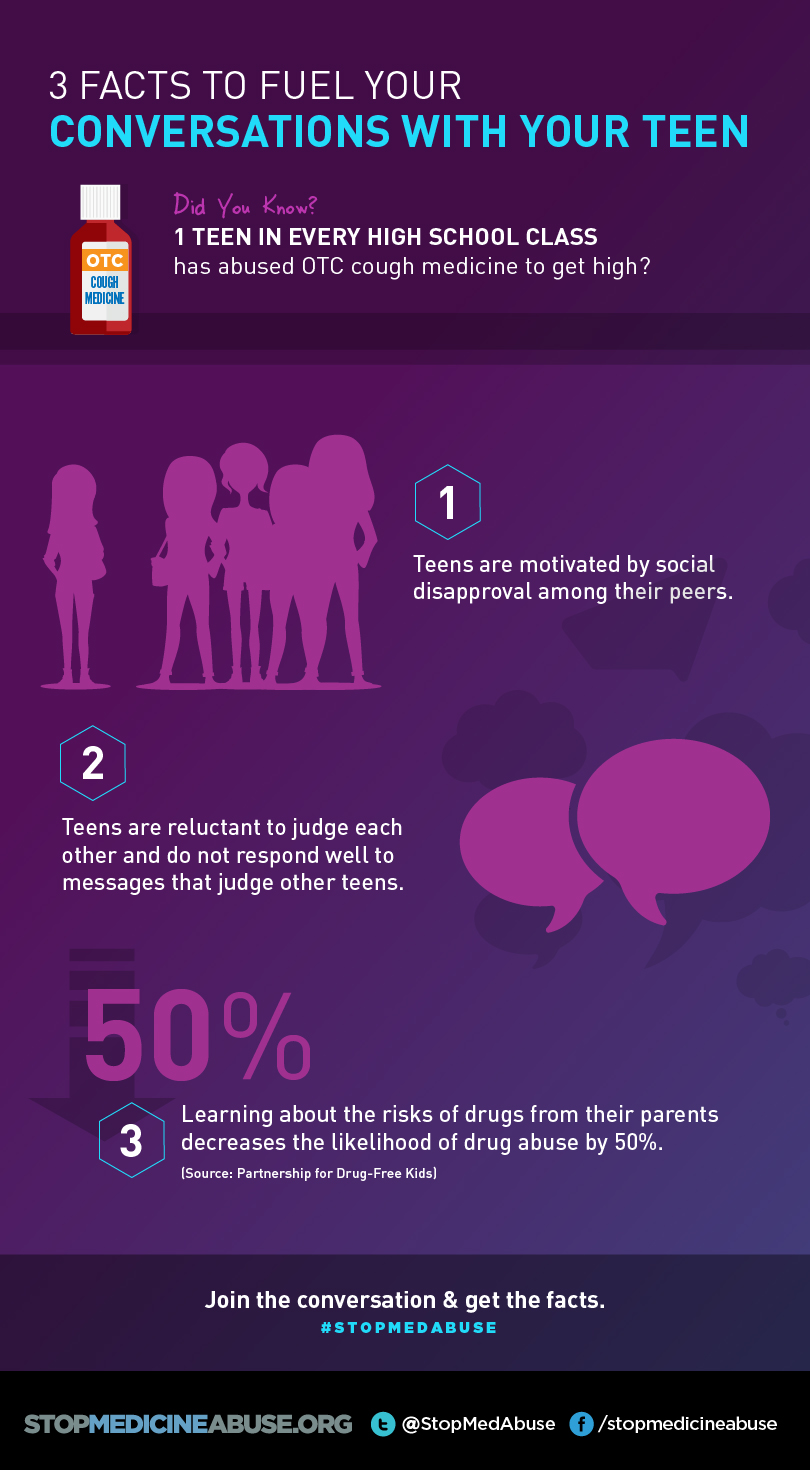 Kareemah Abdullah, director of the National Community Anti-Drug Coalition Institute and vice president of training operations, stressed how important it is for parents to keep on top of the information about drugs as well as the latest social media platforms. This helps us to keep the lines of communication open with our teens and helps them make the most informed choices.
But she also stressed that although parents are an important and crucial influence in teens' lives, their friends and peers can also carry a lot of weight. In fact according to research shared by CHPA, teens are almost three times as likely to trust their friends as a source of information than their family and that includes their siblings. Almost 35 percent listed friends as a top source and only 8 percent listed family. The CHPA also found that when teens are curious about DXM or cough medicine abuse, it's because they have a friend who has tried it or they have heard about it through pop culture. Because teens spend a lot of time online, that is where they will look for the information.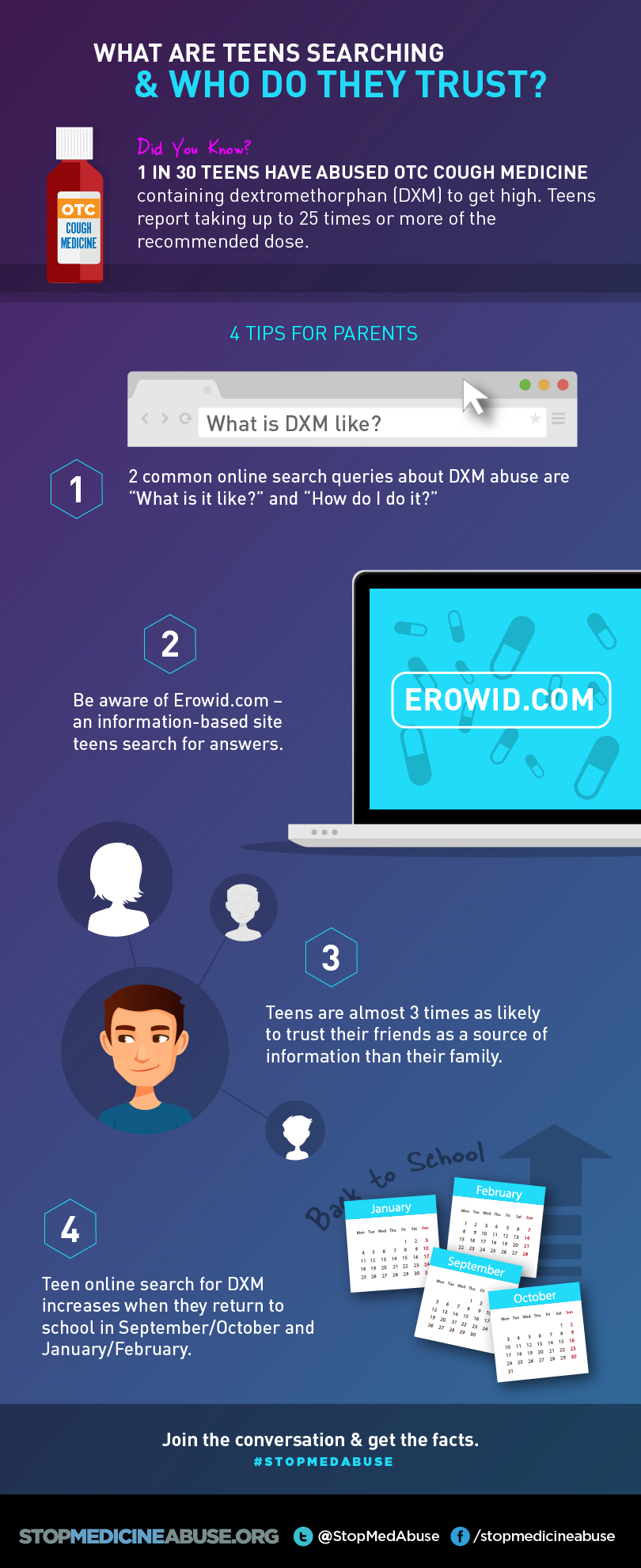 That is why the CHPA along with their partners have come up with a creative and award-winning online campaign. What is DXM? uses real-life testimonials, games, apps, and bait-and-switch videos to interrupt teens' searches as well as change their perceptions of this behavior. And it seems to be working, since 2012 teens have visited the site one million times and have downloaded the app almost 300,000 times.
Visit Stop Medicine Abuse with your kids and see what conversations it sparks. You can also visit their Pinterest page. The day Tom let me know about his friend and the cough medicine once again reminded me that even when I think he is not listening to me, he is.