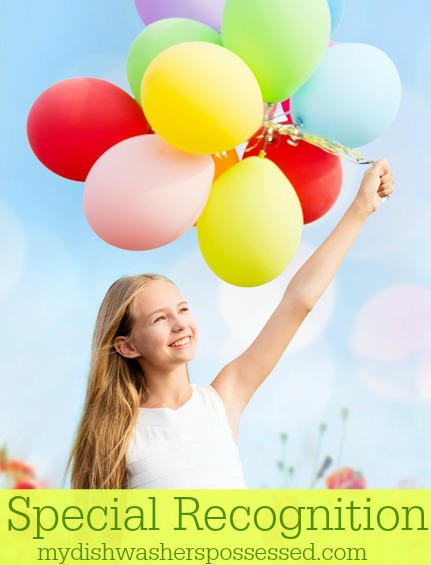 One of the biggest lessons I have learned these last 13 years as the mother of a daughter with significant special needs is that I have to adjust my expectations and enjoy every triumph my Lizzy attains on her terms.
Yet every so often I get the chance to feel just like any other proud mama, "special" or not. I had such a moment last week.
A few weeks ago I received a letter in the mail from Lizzy's school. She is moving up from the special needs elementary school to the junior/senior high school for students with special needs. Every other day there seems to be a notice in her backpack informing us of a fun outing or noteworthy event for the graduates.
Since we had the experience of seeing all the activities, trips, and parties our eldest son had when he moved up from our district's elementary and middle school, I was thrilled that Lizzy was getting to enjoy some of the same fun as she celebrates this milestone in her life.
It was a bit unusual to get a letter from her school in the mail. Always expecting the worst, I quickly tore it open to find a letter informing us that Lizzy would be receiving an award at a special ceremony for students moving up, and we were invited to attend.
I smiled and thought how much our daughter loves events like this. Not only does it give her a moment to shine in the spotlight and wear a pretty dress, which she loves, but they also almost always serve cake. And my princess loves cake.
I'm ashamed to admit this, but I really didn't give the actual award much weight or thought. That's not to say I wasn't excited for Lizzy. I was. But when you are the parent of a special needs child, you see your kid get a lot of awards and trophies for putting in the amazing effort it takes to complete anything. All the kids are superstars. I have never seen my daughter singled out for an accomplishment.
A few days before the ceremony, my daughter's teacher wrote a note saying that she was so glad my parents, my husband, and I would attend the ceremony because, though she couldn't tell me what award she had won, it was a big deal.
Now I was very curious.
Walking into my daughter's school has always been bittersweet for me. I am eternally grateful that such a great place exists and that Lizzy gets to attend. But a part of me wishes we didn't need it. Today was different, I only felt pride as I signed my name in the guest book and got my name tag.
My husband and I made our way into the auditorium that had been decorated with balloons and streamers. A mom of one of Lizzy's friends congratulated us. She showed us the program, and there was our daughter's name underneath the name of the award she would receive. My heart beat a little faster and I knew I was smiling like a fool.
Is this a little of what my sister felt a week before when her daughter was inducted into the Junior Honor Society? My parents came in a few minutes later, and I quickly showed them the program. They started to cry and my father made sure his camera was ready.
The principal welcomed us and explained that this was a very special ceremony to celebrate some very well deserving students. He explained that each student selected had been nominated by a staff member and voted on by a committee.
Hearing the lovely words of tribute that the presenters used in explaining why each child was selected caused tears to just flow down my face. I smiled as each student made their way to the front of the room. Sometimes they required the help of an aide, a few went up in wheelchairs, and a few ran up on their own.
Once again the principal took to the podium to explain that it was now time to present a very special award in honor of a young man who though he lived only to 21, brought much happiness and joy to all who knew him. He went on to talk about our Lizzy, the self-proclaimed princess, and how she embodied the spirit of this award. He mentioned how hard she works, that she is a member of the cheerleading squad, art club, the chorus, and even had a solo in the school play. He went on to say that our daughter is always willing to help a teacher or student and has a smile for everyone she meets.
The principal then called her up to the podium. And in that moment she was not my special needs child, she was Lizzy. A young woman who was indeed special, not for her disabilities, but despite them.