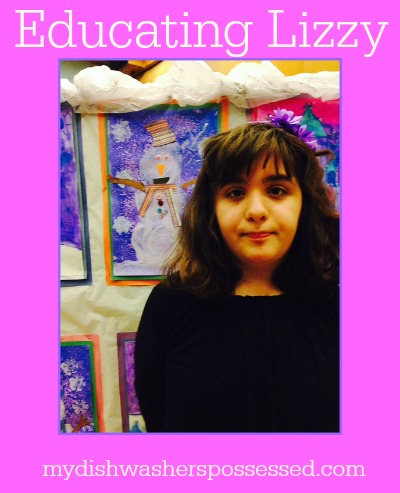 The other day I had my annual parent/teacher conference for my 13-year-old daughter. Each and every time I visit Lizzy's school, I'm assaulted with a range of emotions, from gratitude and respect for the school's teachers and staff to dread and sadness as I get buzzed through the heavy doors and enter the lobby.
I smile at the attendants at the front desk as I sign the guest book and get my name tag. I hear them call Lizzy's teacher and let her know I've arrived.
The walls are decorated with colorful pictures the children made for their recent art show. Everywhere I look I see paintings of penguins and snowmen that the kids made with the help of some very talented people.
It's not unusual to see a child with severe disabilities being pushed in a wheelchair, or walking with the help of a walker and an aide. Maybe a little one working hard on a special bicycle, smiling and happy at their accomplishment. Or a gorgeous child who looks healthy but is looking off to the distance, unconnected from the world though people are cheerfully talking to them. This day is much like the others at the school, and I make sure I smile at each child and adult I see. A little boy waves at me and everyone, including me, praises him for doing so.
Lizzy started at this school two years ago when the special education program she was attending in our district could no longer meet her needs. She was in the fourth grade at that point, and by January it had become obvious that she had stopped learning and was going backwards.
Her teacher reported that she would frequently get lost in her own world. Some days she insisted she was a princess. Other days she would claim she was in Frogland. And then there were the days when she said nothing at all and was in an almost catatonic state.
Her tests said her IQ, which was already low, had declined even more. She wasn't doing much better at home.
It was a bitter slice of reality the day Lizzy, my mother, and I toured this "Special" school for the first time. After an extensive intake interview, the director of admissions took us into a classroom that she thought would work perfectly for her.
As we entered the room Lizzy looked at the teacher and the children listening to her. She walked right up to an empty chair and sat down.
The teacher handed her a sheet with words for the song the class was singing, and she started to sing along.
Another little girl lit up as soon as she saw Lizzy and asked if she could sit next to her.
My daughter sat in the middle of the class and looked as if she completely belonged.
My mom started to cry.
The program director was thrilled and kidded that we were going to have a hard time getting her to leave. Lizzy knew she was in the right place. My sweet girl had been unable to verbally let me know how unhappy she had been.
From that day on Lizzy has been thrilled to go to school. She bolts out the door as soon as she sees her bus. She sings in the chorus, is a cheerleader, and a Girl Scout. The children and her teaches adore her and she's learning. I've mixed feelings when she refers to school as her real home.
I thought of all of that as I sat and listened to her current teacher and therapists go over her progress for the year so far. They were all so proud of all that she's accomplished.
As hard as it is for me to believe Lizzy has almost come to the end of her time at the elementary school and will be moving up to the Middle/Senior high school where she will stay until she is 21.
Next year she'll start learning vocational skills and preparing for the adult world. Although she'll always need a lot of assistance, it's hoped that Lizy will grow to have a job and the fullest life possible.
Before I left the building I asked if I could see her. Her teacher, who I adore, said of course and walked me to her classroom. I saw Lizzy's back. Ms. T told her to turn around to see who was there.
"One minute please," I was happy to hear her speak so nicely. The aide told us she was hard at work. I went up and saw her concentrating on each letter of the sentence she was writing. I'm not going to say she looked unpleased to see me, but let's just say she looked like any other teen whose mom came to see them in their classroom.
I left that day, almost the same way I came in. Except my feelings of joy, gratitude and respect had grown and my feelings of sadness and dread had almost, but not completely, disappeared.
The one thing I realized as I walked back to my car is that Lizzy isn't the only one getting a special education. I am too.