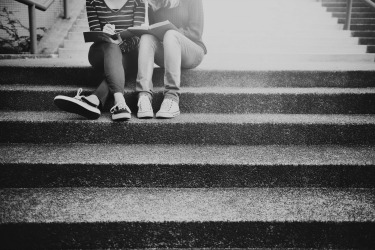 I'm a born storyteller. A real ham. As a child I loved to make up plays and perform them for my family, often getting my younger sisters into the act.
I started taking classes and performing in teen groups when I was 13 and found a home on the stage. I decided this was what I wanted for my life and when I graduated high school I took off to NYC and acting school.
After years of taking class and auditioning I decided to leave my dream of a life on the stage for a steady paycheck, benefits and a apartment with a very teeny tiny view of the tree tops of Central Park that I shared with a roommate.
I met my husband, and became content to sit in an audience and watch others perform on the stage.
Feeling that I wanted more than just being an executive assistant in a Venture Capital firm, but having no desire to go back to acting, I went back to school at the age of 27.
While in college I realized that my husband wasn't just humoring me when he said I could write. My work was getting noticed by my professors and fellow students. It felt good and I started to think that maybe one day I could look into a career as a writer.  
But what I wanted more than anything was to start a family. This was proving much harder than Joe and I thought it would be and for two years my focus became getting and staying pregnant. After five miscarriages we finally became parents to the most perfect child known to mankind.  
I fell in love, not just with my gorgeous son, but with motherhood. This is what I was born to do. My years of performing and storytelling were being put to good use entertaining my child. I loved my life and was thrilled when our family grew to add two more children.
But life was more than a little crazy. All three of our kids have learning differences, and it soon became apparent that our daughter had very significant speech and developmental delays. Our house became a revolving door of speech, occupation, and physical therapists. Not to mention a host of doctors, specialists and teachers.
Everyone, including my husband, started to suggest that I should start blogging and sharing our story, but who the heck had time.
Then before I knew it my youngest son started kindergarten and I had a few hours a day all by myself. I started to blog and never looked back.
I fell in love with writing and had the luck of getting on some dream publications, having essays in three books and even on occasion getting paid for my work.
How lucky to be starting my 50's and find a new purpose. But that's not the end of this story.
Last year I came full circle when I got cast in the NYC 2017 cast of Listen to Your Mother. I got to stand in front of an audience and read my own work. My two loves of writing and performing melded. This was beyond cool.
And not only did I get to work with amazing writers and be in LTYM, I met a new friend.
Barbara Herel was one of the producers of the show. She lives in the next town over and is a fifty-something parent to a school age kid, just like I am. And, she was also a one time performer who was now a writer.
We started meeting at a cute coffee shop that's between our two home's and a friendship was born.
Barbara's run of producing the NYC show was coming to an end. She found herself drawn to the idea of starting a new project around storytelling and family.
Over coffee and muffins she wondered if I would want to help her bring her dream of a production and website to fruition. I didn't even swallow my muffin and said, you bet!  
I'm thrilled to announce that our site, Every Family's Got One (a story that is) is now live. Each Wednesday we will bring you a different essay around family in all of it's wonderful, messy, quirky forms. Sometimes written by Barbara or I, and sometimes from a talented guest writer.
We will also be producing a production that will take place in October on Long Island.
Come check us out and sign up for our mailing list, and visit us on FB and Twitter, so you we can keep you posted.
If you would like to submit a piece to the site, contact us here. If you live in New York or don't mind traveling to Long Island for rehearsals and a performance, think about auditioning for us. We will be sharing details as soon as we have them.
Thank you so much for all your support.
As I start this new chapter, I have decided to take a break from posting each week on the Dishwasher. This doesn't mean I will stop writing, but I feel ready to finally jump into the fray of the freelance market. I figure after being a mom for 19 years, 12 as the mom of three, I've heard no so often that I'm a pro at rejection.
Don't think you are getting rid of me, you will still see me on FB, at both My Dishwasher's Possessed by Kathy Radigan and at Every Family's Got One. And of course this will continue to be my home base.
Thank you again for always being willing to spend a few minutes with me and my crazy dishwasher.
Much love to you all.