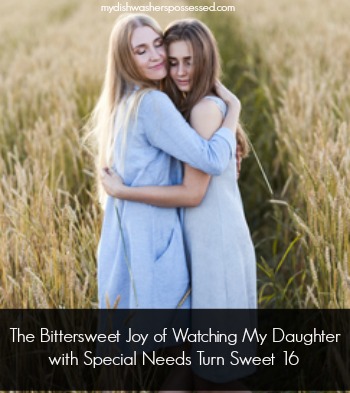 This week is my daughter's 16th birthday. We aren't going to be helping her study for her driver's permit. Nor are we having a big party, complete with fancy dress and a hair and makeup appointment, like many other girls in our area have when they reach this momentous age.
We aren't even throwing a little dinner like we did when her brother hit 16, because last year when we threw her a small 15th birthday luncheon at my parent's house, Lizzy thought it was a good idea to clog the toilet and cause an epic flood. The idea of having two of her friends as guests was a lot more fun for her than actually spending time with them.
Lizzy's significant speech and developmental delays, along with her need to be in her own world of talking butterflies and fairy princesses, means that her life is very different than the one I imagined she would have when I first held her as a newborn baby.  
Of course it was never her job to become the girl I wanted or expected her to be. And I want to give her the space, dignity, and freedom to become the person she is supposed to be. It's the same right everyone has, and one of my jobs as a mother is to ensure that all three of my children are able to exercise that freedom.
But it's not easy.
There are times when she acts so much like a typical teenager escaping to her room, closing the door, and blasting heavy metal. Other times she tells me to leave her alone and to stop bugging her.
Then there are the bigger mishaps, usually within just a few minutes of her "typical teen behavior," when she empties out all the hand soap in the bathroom, or crumbles every stick of deodorant she can find from the numerous places we hide them, in no more time than it takes for me to turn around and wipe down a counter, or heaven forbid, answer a phone.
Lizzy might be 5 foot 9 inches tall, but so often she acts no different than she did when she was three.
She does have her charms. That girl can have me wanting to scream at the top of my lungs at her when she rips a brand new sweater, or colors her bedroom with lipstick, and wanting to laugh and hug her the next. I melt when she looks up at me with her big brown eyes and answers the question, "Why in the world did you do this?" with a bewildered look and a, "I don't know mommy, why did I do that?"  
Lizzy will always need to live with my husband and me, or someplace where she has constant supervision. My dreams for her are a lot different than the ones I have for my sons. But I do have dreams and wishes for her.
I want her to find a place in the world where she is happy and accepted. She's been so lucky to find this at her school, and I hope that we can always find a safe, nurturing environment where she belongs.
I want her to always have the sweet friends she has today. The girls who love to talk to her about princesses and pink, pretty clothes, and the boys who show her how to play Spiderman on their tablets at school. Or cheer for her when she gets a strike at bowling.
I know we are so fortunate to live in a town and a state that have services for people with disabilities, and I'm grateful that my husband has a good job with excellent insurance so we can provide her with the doctors and specialists she needs to be the best version of herself.
I know how lucky we are that we have never been at the mercy of an overcrowded and underfunded public healthcare system.  
But I also want the world to see the amazing person Lizzy is, beyond her special needs. The tenacity she has showed in learning to communicate and read. How earnest she is when she reads the princess books for beginning readers she loves.  
The kindness she exhibits when a friend is sad and needs a little comfort. Her ability to come out of her own world long enough to ask her older brother how his test went or bring some juice to her little brother because he's home sick.  
The delightful laugh and smile she gives when she gets her haircut and tells the stylist, "Thank you for making me look so beautiful."
My daughter has taught me so much about the kindness of strangers and the joy of being in the moment. She has showed me a world where fantasy can blend into reality and where some stressed-out people on a crowded checkout supermarket line can be cheered up by a very tall girl who believes herself to be a princess.
No, my life is nothing like the one I thought I was going to have when I went to the hospital on a very early and warm January morning to have her via C-section 16 years ago. And certainly I have my moments where I feel sorry for her and me.
Thankfully those moments don't last too long because the daughter I do have is such a special gift.