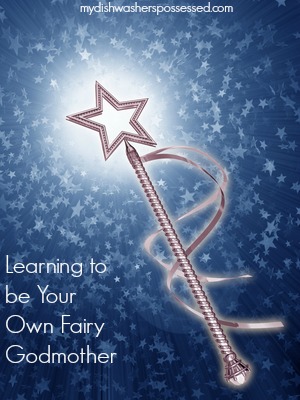 When I was seven years old, I saw the Disney version of Cinderella, and the inner princess in me was born. I loved the sewing, singing mice, and the fairy godmother who turns rags into a beautiful gown and a pumpkin into a coach pulled by six white horses.
And I couldn't resist when Cinderella met her handsome prince and lived happily ever after.
But I wasn't raised believing that I needed a man to rescue me. My parents taught my sisters and me that we could be anything we wanted and encouraged us to start our own lives and not worry about when we would fall in love and get married.
As I got a bit older, I would wonder why Cinderella didn't just pack up the mice and hightail it out of her evil stepmother's house?  She could have started a dress shop with the mice. The fairy godmother could have helped her secure a micro loan.
Then, if and only if she wanted it, she could meet her Prince Charming and after a lovely courtship, gotten married in a dress she designed herself.
When I met my husband on a blind date twenty-seven years ago, I was glad that I was supporting myself and living on my own. I wasn't looking for someone to rescue me. Falling in love with him added to my life, it didn't give me one.
But lurking somewhere deep within the confident woman I knew I was, lived a princess wanna-be. And she came out when I got engaged.   
I obsessively read bridal magazines and pored over pictures of gorgeous designer gowns and stunning flowers.
In my research I had come across a news story about an up-and-coming designer and the beautiful bridal boutique she had recently opened at the Carlyle Hotel in New York City. The store sold her designs as well as a lot of the designers I saw in magazines. I knew I wanted to buy my dress at Vera Wang.
Unfortunately my budget doesn't always fit my desires. Even so, I planned in my mind how I would purchase the gown of my dreams on my down-to-earth budget.
Since I have always loved fairy tales, I decided to become my own "Fairy Godmother." I visualized going to Vera Wang and finding the perfect dress right in my price range. For fun I also added that I would get to meet the designer, and they would like me so much that they would throw a few special things in for no charge.
I had a lot of free time at my job.
More for fun than anything else, my mother and I made an appointment to shop for my wedding dress at Vera Wang.
As we went through the store with the saleswoman, my eye went to the most beautiful dress I had ever seen.
It was a simple, white silk gown with delicate pearl bead work on the off-the-shoulder neckline. The saleswoman saw my face and got the dress. I figured I was in trouble and tried to decide just how important eating really was to me.
She zipped up the dress, and I completely fell in love. She smiled at me and said that this gown was very reasonably priced. And, without knowing anything about my silly daydream, said if I didn't mind coming back on Saturday, the designer was having a trunk sale at the shop. I could meet him and get an additional 10% taken off the dress. I was in shock. It was my fantasy come true.
I bought my dream dress. I met the designer. And, true to my fantasy, he added pearl buttons down the back of my dress and cut the dress to my exact measurements, all for no extra charge. I had my Cinderella moment complete with a perfect wedding to a man I truly adore.
I can't believe that was almost twenty-five years ago. I often wonder what the younger woman I was would think of the life we have created. Many of the dreams we had have come true. We've also had some painful times that we have managed to weather together.  
Life isn't a fairy tale. Nor is love. It takes work, commitment, luck, and at least in our case, a lot of laughter. Just like my parents did for me, I have always wanted my kids to know this. But I do hope they always believe in a bit of magic. And I want them to remember that they can be their own fairy godmother.
Related articles across the web