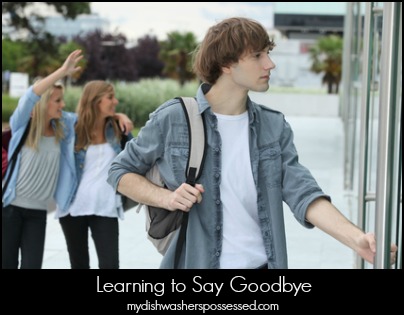 Our son, who will be starting his freshman year in college this fall, met with the school's counselors last week to set up his class schedule.
Why I thought my husband and I would be involved in this process is beyond me. Tom has been handling his own scheduling issues and any other problems that might come his way since high school. He's quite skillful at it. I knew he didn't need us.
There was a part of me that really wanted him to ask for my help.  
For some reason his college used our home number to confirm his appointment instead of his cell number. I took the message and then asked if it was OK if we could be with him.
I know it's ridiculous, and I don't blame anyone who shakes their head at me. He's 18.
"Well we do prefer students to set up their schedules on their own," the young voice on the phone said in a way that told me it wasn't her first time saying this to a parent.
"Oh, of course, thank you." I hung up and felt like an idiot.
An image of a Tom, not long after his third birthday, dressed in Blues Clues overalls, flashed before me.
"Mommy, don't leave me. I don't want to go."
All eyes were on me at our Mommy and Me class. The first part of the class was spent together playing with the parachute and singing songs. Now it was time for the craft and snack portion of the class, when the little ones left the safety of their caretaker to go to the big room with the teacher and assistant. All by themselves.
My kid was the first dissenter.
"You can do this Tom. You'll be great."
"No."
A roomful of moms and kids were watching my every move.
"Yes you can. I will be here when you get back. Have fun." I said this in the most confident voice I could muster.
His big blue eyes started to well with tears, and then he cried. The teacher came over, and I said, "Tom you got this. Go with Miss Amy. I can't wait to see what you make."
He stopped crying, though he still looked pitiful. "Can you dry my tears before I go in." I could hear all the moms' hearts breaking with their collective murmurs of, "how sweet."
My heart was breaking as well, but I knew I needed to be strong. This was important. Yes, it's only Mommy and Me today. But preschool was in a few weeks, and then there would be kindergarten. Heck college was just around the corner.  
Tom took the teacher's hand and walked slowly, as if he was going to the gas chamber and not a brightly colored room with twenty kids, a story, crafts, and snacks. I put the years of acting lessons I had to good use and pretended that I wasn't worried about him at all.
We both survived.
It wouldn't be the last time he would cry before leaving me. It wouldn't be the last time he used the, "Just dry my tears before you leave me" line either. But from that moment on, he knew I believed in his ability to be fine without me.  
It's been a thrill watching him navigate the world, little by little on his own. Standing up to the bully on the bus in second grade, calling his friends to make plans starting in sixth grade and then, before I knew it, scheduling his own driving lessons.
I'm so proud of the young man he's become.
Tom bounded in the door startling me out of my time warp. I mentioned the call and the fact that the school preferred us not to be there.
"Well of course you can't be there. I have always done this stuff by myself. I don't need you guys, Mom."
"I know. I know. Of course you don't."
Then he stopped and looked at me. "Well, do you think you should be there, it is college. Maybe I will need your help?"
I wanted to say, yes you will need me. But I didn't.
"Tom you don't need us at all. You have this completely covered."
"Yeah, you're right. I'll be fine."
"You'll do great."
Joe and I drove with him to the college. Not because he needed us, but because we wanted to. As we walked into the administration building, we saw a group of other students with their parents in the waiting area. A college advisor came out and told the students to come with him, adding, "Please, no parents."
Tom smiled at us and then left with the group. I watched him walk away, just like I did when he was three. But now he was so sure of himself, so grown up and confident, never once looking back.
I wanted someone to dry my tears.
Related articles across the web