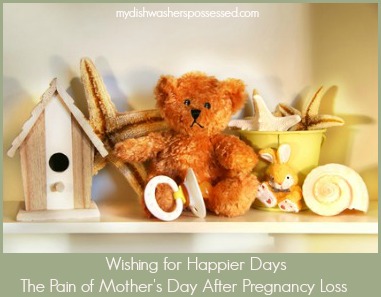 I sat up on the exam table, my husband next to me. Our doctor turned her back on us and asked for the date of my last period. With her calendar wheel in hand, she turned around and pronounced that May 30th would be my due date.
Excitement filled my body. I couldn't stop smiling. For as long as I can remember, I wanted to be a mother, and now it was happening. Joe turned to me and said, "Kathy you will either be very pregnant or holding a newborn for your first Mother's Day." We were thrilled.
Hallmark-approved images of me either in a flowing maternity dress, serenely awaiting the birth of our child, or my husband and I walking the city streets pushing our newborn baby in a carriage filled my mind. I was ecstatic.
A few weeks later my husband and I found ourselves in that same examining room staring at a ultrasound machine that showed an image of our baby, now with their small arms and legs visible, but no heartbeat.
I was devastated. All our dreams of a spring filled with our baby were shattered.
As I recovered from the physical pain of a D&C and the emotional scars that took much longer to heal, Joe and I started to look toward our "plan B." Because we got pregnant on our first try, we hoped we wouldn't have to wait long. I prayed that I would at least be pregnant when Mother's Day rolled around.
I thought our prayers were answered when in late February I was looking at a positive pregnancy test. About two weeks later I was back at the doctor. I took a little solace that this time I didn't have to have a D&C, because my body had taken care of it for me.
I was now grieving the loss of two babies.
As Mother's Day got closer and closer, I was depressed and unsure about how I was going to recognize this day. Joe and I had gone to a support group for parents who experienced pregnancy or infant loss, and they were holding a special celebration. I knew I didn't want this. I could not handle a present from my "angel babies." I understood it might offer comfort to some, but not for me. It seemed to drive home the loss. It was as if the universe was telling me, "Kathy you don't get your baby, but here is a sweet keepsake to hold instead."
Commercials filled the airwaves with touching images of mothers and infants. I just wanted to disappear. How was I going to make it through this day?
Thankfully I was blessed to have my mom. She was sweet and understanding enough to allow my sister and I to take her out for a special lunch the day before. This way I could escape all the happy families in the suburbs, and Joe and I could be back in our apartment for the dreaded day. I did my best to enjoy the lovely lunch and be grateful for what I had. But it was hard to keep the thoughts of what this day was supposed to look like out of my head.
I woke up Mother's Day morning and Joe handed me a card.
"Oh, honey, please, I don't think I could handle a card from our babies." I started to cry.
He came over and put his arms around me and softly said, "No, Kathy, it's from Samantha." Our cat heard her name, jumped in my lap, and started to snuggle with me.
I laughed a bit, observing the fact that though this was far from the Mother's Day I planned, it was sort of sweet. I willed myself to remember what I did have, a loving husband and the best cat in all of world history.
I got through the day. I'm not going to lie, I did tear up whenever I saw a baby in a carriage or a woman walk by with a huge pregnant belly. And I was rendered speechless when the waiter at the restaurant we went to for dinner asked me if I was a mother. But I appreciated that Joe quickly answered for me, "not yet, but soon."
The next year when Mother's Day came around, I was three months pregnant. After enduring four miscarriages, I was no longer sure what life had in store for me, but I did my best to enjoy the moment.
This Mother's Day I will most likely be woken up by the sound of Joe yelling at my three kids to please be quiet and let their mother have at least one morning of peace a year. There will be chaos and nothing even close to the Madison Avenue image of a happy day celebrating mom.
And it will be perfect.
Related articles across the web