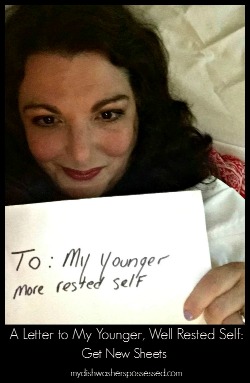 This post is brought to you by DermaTherapy. I was compensated for my time and given a set of sheets to try. The opinions expressed here are mine.  
Dear younger, well-rested self:
I see you luxuriously sleeping next to your husband in your one-bedroom high rise, and I feel compelled to reach out to you from the future.
I am your 51-year-old self, and there a few things you should know.
Please take a moment and just revel in the fact that it's a Saturday, and all you have to worry about is your laundry and the movie you and your husband see tonight. I realize since this is what you do every Saturday, it doesn't seem that special, but dear girl, it is.
Before you know it, you will be a mom to three kids living in a house in the suburbs. Yes, yes, I know you said that would only happen when pigs fly. Hey, things change. And, Surprise, you will really end up loving living six blocks from your parents.
As the years go by, you will be woken by colicky babies and teething toddlers with their elbows and feet in your face. Lets not forget a six-year-old saying, "Wake up mommy, I want waffles," or a 12-year-old asking why you and daddy have your bedroom door locked.
Let's not mention the morning you are woken up by the sound of your teenager melting down because he can't find his wallet, and he needs his learner's permit for driver's ed.
Feeling a bit freaked out? Sorry. Take a deep breath.
Enjoy the feel of your silk night shirt on your skin, and please don't get down at yourself because you think you would look perfect if you could just drop five pounds. You are beautiful.
Appreciate the fact that you just have to splash some water on your 28-year-old face and brush your teeth to feel pretty and fresh.
As you age and deal with the hormonal changes of pregnancy and menopause, it will take a bit more to feel fresh. Pretty requires a whole new level of products.
There is something I feel you must know, as you get older you will experience night sweats. They will start after the birth of your first child, and they will continue on and off well into middle age.
Thankfully they don't happen every night, but when they do, you may wake up shivering and think you have been left on a snowy mountain cliff. (It doesn't help that you married an epic bed and cover hog, but I digress).
Suddenly your treasured cotton sheets aren't going to feel so great. They're going to be damp and cold.
Fear not, you will learn about DermaTherapy sheets and have a restful night's sleep, even while having the night sweats. I was a little dubious as to whether they would work or not, but when I was offered the chance to try them out, I figured I didn't have anything to lose and possibly a pleasant night's sleep to gain.
DermaTherapy sheets are 50% rayon and 50% polyester. Unlike cotton bedding, which retains moisture, promotes allergens, and is harder to clean, DermaTherapy fabrics provide a cleaner, hypoallergenic, smoother lint-free, and drier sleep surface.
They fit beautifully on your extra-high mattress and don't slip off. This will come in handy when you have kids bouncing on your bed.
I realize that right now a restful sleep is all you know, but when the night sweats hit, you'll be so happy to finally wake up far more comfortable and drier than you ever did on your once beloved cotton sheets.
Rest assured that even though Joe feels only cotton will do, he will be pleasantly surprised at how soft DermaTherapy sheets are. They also clean beautifully, which is a huge plus when your daughter sneaks into your room and eats cookies in your bed.
So my dear younger self, I leave you with this, enjoy having your job, husband, and cat as the only things on your plate right now. Relish every minute you have to relax in a way you never will once you have three babies to worry about twenty-four hours a day. (Though you do have the most amazing children known to mankind, so it's totally worth it.)
Relish lazy mornings in bed with Joe. And when the night sweats hit, know that DermaTherapy sheets can keep you comfortable and give you the great night's sleep you so badly need.
DermaTherapy  is making it even easier to try their bedding by giving my readers a 15% discount until June 10. Just use promo code MDP15. I hope you enjoy them as much as I do.