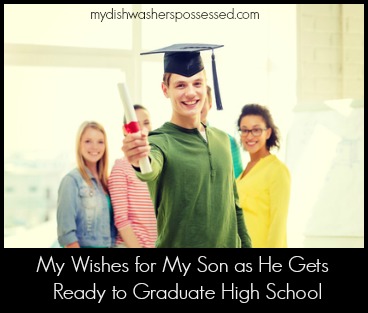 This week our firstborn child got measured for the cap and gown for his high school graduation. It was only yesterday when I would put him on my lap after bathing him. He would smell of lavender baby wash as he snuggled into me. I would rock him to sleep and just stare at how gorgeous he was. Those days felt as if they would last forever.
Now he is 18 and thinking about the prom and the courses he wants to take in college. He's also thinking about what he wants his life beyond school to look like.
I can't help but remember what it felt like to be his age. I was obsessed with my future and making my dreams come true. Back then anything and everything seemed possible and the idea that my life would turn out to be anything less than the way I wanted it to be was ridiculous.
Now that I have lived on the planet for fifty something years, I'm a bit jaded. I've had my share of dreams come true and more than a few that didn't.
One of the biggest joys in my life has been getting to see him grow from a little boy to the confident kind man he is today. As he gets ready to explore the world beyond the safety of our nest, I want to impart every little bit of wisdom I've learned and steer him away from those things that I feel will hurt him or bring him pain.
Of course, he is 18, and I know my words aren't always welcome. Despite this, I decided to write down a few of the wishes I have for him. Maybe on the harder days, when he doesn't want to talk to anyone, these wishes will remind him that he will always be very loved. And that his mother is wise.
Dear Tom,
As you get ready to go off into the world, these are some of the wishes I have for you:
Enjoy your college education, and take the time to discover what you really love. Don't let fear guide your decisions. Is there a class that sounds interesting, but you think it might be too hard? Take it. Do you want to audition for the drama department play, or ask out the girl in your Freshman English class? Do it. Remember, it's totally normal to get scared, especially when you try something new. If it doesn't turn out the way you want, so be it. I've never regretted the things I tried and didn't get. I have regretted the things I was too scared to attempt.
Find something you love to do, and figure out how to earn a living at it. People aren't kidding when they say that if you do what you love, you'll never work a day in your life. And once you find that, don't let anyone, including me or dad deter you.
Don't panic if you don't find your true passion or your dream job right away. And don't let anyone tell you you're selling out if you take a job that pays the rent. There's something very satisfying about paying your own bills and being in charge of your own life. Remember we all have to start somewhere.
Live on your own before you settle down with someone. The first apartment I lived in where I and I alone was responsible for my share of the rent was a second-floor walk up on Manhattan's Upper East Side. The bathtub was behind the kitchen sink, and you had to walk through the two bedrooms to get to the living room. I shared it with a roommate and a rather large family of cockroaches. It was a bit of a dump, but it was my dump and I loved it. Don't be afraid to strike out on your own. Dad and I will bring the bug spray.   
Find your tribe of friends who will stick by you in good times and bad. And be there for them as well.
Fall deeply and profoundly in love with someone who accepts and loves you for the person you are. The type of love that makes you not able to eat or sleep. The dizzying, electric, all-consuming love that makes your heart skip a beat every time the person walks into the room. Don't be afraid to hold out for that.
Enjoy the process of getting to where you want to go. That's where the fun lies. It might sound appealing to have a Fast Forward or Rewind button in life and speed past the harder or more difficult days. But these are usually the times where some of your biggest and best lessons will be learned. Once you achieve a goal, you'll find another, bigger, better one to set your sites on. Appreciate and celebrate even the smallest milestones.
And above all, please remember these are my wishes for you. Don't be afraid to make your own. Don't worry if they're different from mine. Dad and I are always here for you.
All my love,
Mom
Related articles across the web