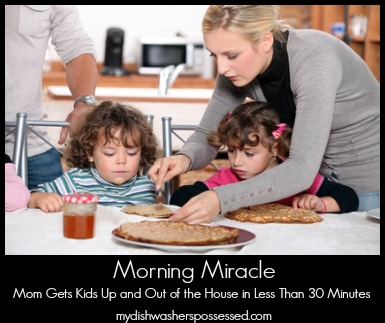 Tuesday morning was like most: I woke up around 5:00 am, had a cup of coffee, and glanced at the paper my husband left on the kitchen table. Yes it's early, but I relish this time when all my chickens are present, accounted for, and sleeping soundly.
I do my daily check of the backpacks, write notes for the kids' teachers, and pack snacks for my second grader and kindergartener.
It's now 5:30. Usually I shower and get dressed before everyone wakes up. But I was so sleepy, I decided to crawl back in bed for a few more minutes.
I never fear doing this. I have a finely tuned internal clock that wakes me at my will. If that fails, my husband sets his alarm for 6:00 so he can catch his train. Plus I have three kids. One of the angels is sure to wake me up if plan A or B lets me down. It's really a no-fail system.
Except for this morning.
I awoke with a pleasant feeling from a sweet dream starring my husband.
As I happily rolled over I saw the clock on the TV.
6:58. 6:58? Are you kidding me?
Now I'm wide awake. Lizzy's bus will be here at 7:25. Peter's at 7:35. What day is it? Tuesday. Early chorus rehearsal for Tom. He has to be in by 7:45.
Not one person in my house is up.
This is not good. Not good at all.
"Joe, you picked a Tuesday to forget to set your alarm," was the loving way I woke him.
"OK. Everybody up now," I yell as I throw my clothes on and splash water on my face. No time for even the smallest amount of makeup. I don't even have time to comb my hair.
My mission, should I choose to accept it, is to get three kids out the door to three separate schools in less than 30 minutes. Failure is not an option. (OK, I promise no more movie references.)
I wake my nine-year-old daughter first. Because of her special needs, this can be tricky.
"Lizzy, we have to get up, now. We're late. Come on honey." I put a warm cloth on her face, direct her to the bathroom, grab her pink dress and matching leggings. No time to work on self sufficiency today.
Five minutes later she is dressed, teeth brushed, and hair in a ponytail. Boy I'm good, I wonder how I can word this skill on a resume when and if I ever decide to re-enter the paid workforce?
I rush to the kitchen and quickly give her some juice and her medications. I remind myself — 1 pink pill, 1/2 a green pill.
"Do you want cereal?"
"Yes."
I get two bowls and fill them with Cheerios. Milk for her, no milk for Peter.
I now get Peter, my five-year-old up.
"Wakey, wakey, we are in a rush. We have to move. NOW. Your bus will be here soon."
"I don't want to go to school. I want to stay with you."
"Peter, we're going to school," I said in my, I've-had-enough, mommy voice.
"I want something to eat."
"I have cereal at the table. Here are your clothes, get dressed and then come in the kitchen."
"I don't want cereal. I want something to eat."
"Peter, this is not a diner. We have cereal today or nothing."
"Oh. OK mommy."
God knew what he was doing when he made that one so darn cute.
Now I start yelling at my oldest to get ready.
"I can't wake up mom. I am sooo sorry."
"No sorry, no sorry, just wake up." I use my, I-wonder-how-much-I-could-sell-you-for, voice.
7:20 am.
I grab Lizzy's backpack and usher her out the door to wait for her bus.
"Princess Lizzy, your chariot awaits," is the greeting she gets from the aide on her bus. I smile and say a quick hello to both him and the driver. Lizzy kisses me from the window with the aide's help.
One down, two to go.
I check on Peter. His coat's on. Great. I yell at the oldest again.
"Tom, you are going to chorus whether you are dressed or not. For all that is good and holy, move your tail."
Now I wait outside with Peter.
His bus rounds the corner and stops right in front of our house.  
"Bye mommy. I love you."
"Love you too, cutie."
Two down, one left.
"Joe since your car's blocking mine can you drop Tom off at chorus on your way to the train?"
"He's not ready and I'm leaving right now." Mind you, the man is in his underwear.
"No problem honey." 18 years of marriage, I know when to say something and when to stay silent.
Five more minutes and they are heading out the door.
"Mom, remember I've got computer club today, I need to be picked up at 5:00."
"Yes, I know. Hurry, hurry. You don't want to be late. Have a good day."
"You too. I love you, mom."
'Love you too sweetie."
Joe and I share a quick kiss and say our I love yous.
I close the door and take a deep breath.
Everybody's out. After 30 minutes of insanity the house is now silent. I walk into the kitchen, pour myself another cup of coffee, and say a silent, Amen.
Author's note: As hard as it if for me to believe, I have been sharing my stories on the Dishwasher's for six years. This was one of the first pieces I wrote and was originally published on March 27, 2011 under the title, More Coffee, Amen. It has been revised. Since my kids are now 18, 15, and 11 it's fun to look back on their younger days. And just so you know, our mornings are still pretty crazy.