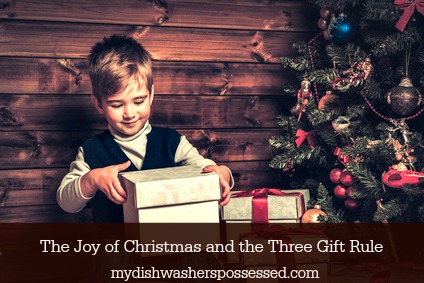 I remember how much my parents loved Christmas and made sure to make it extra special for my sisters and me. My mother made a gingerbread house each year and painted a holiday scene on the front storm door. My dad dressed up as Santa, and my mother threw pebbles on the roof to sound like reindeer hoofs. These people didn't fool around.
Of course the big event was when my sisters and I would walk down the stairs to not only say our very sleepy greeting to the man in the red suit, but to see our Christmas tree surrounded by mountains of presents.
My parents really spoiled us. We didn't have a lot of extended family that lived nearby or showered us with presents. So my parents took it upon themselves to make sure our holiday was filled with lots and lots of gifts.
We got dollhouses, bikes, games, microscopes, cameras, and everything else a kid might want. One year I even came down the stairs to find a puppy. It was great, though I didn't really appreciate all that my folks did to make our holiday so special. In fact it wasn't uncommon for me to get to the end of the frenzied gift opening and not be able to remember everything I received.
As my husband and I were getting ready to welcome our first child into the world, we made the decision to use the three gift rule for our holiday celebrations. I had read about the idea in a few magazine articles, and I really liked how it made the children think and decide about the things they wanted.
I also liked that there was a religious significance to the tradition since the three wise men each gave one gift to the infant Jesus on the occasion of his birth. I joked that if it was good enough for the Prince of Peace, it surely was good enough for our soon-to-be-born son.
But mostly, I really liked the idea of simplifying our holiday. I would see my friends rush around like crazy making sure that not only did they get everything on their kids' lists, but that each kid got the same exact number of gifts. And I can remember my own mom stressing over the same thing. I envisioned a Christmas day where my kids and I got to actually enjoy each other and the gifts that were given.
Unlike other pie-in-the-sky ideas Joe and I envisioned for our children before they were born, like never letting them eat junk food, or letting them watch TV only one hour a day, the three gift rule is one thing that's stood the test of time. We've done it each year since Tom was born 18 years ago, and it's actually done what I hoped it would. Joe and I are a lot less stressed since we are focusing on getting each child the top three things that they really want. And we find the kids appreciate and enjoy the gifts they receive.
Each year goes faster than the next. It seems like just yesterday that I was putting together Barbie town houses, play kitchens, and train tracks. Now with two teens and a tween, the gifts tend to be cameras, trendy boots, and tablets. But I will cherish this year and remember that before I know it, my kids will be building their own families and their own traditions.