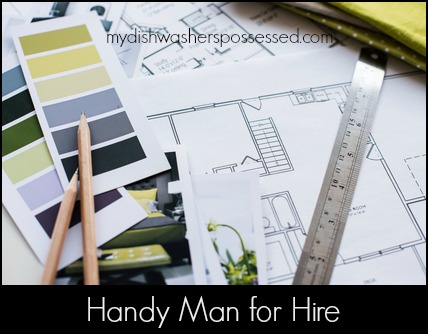 "Now Tom, I want to warn you that Grandpa and I do seem to provide entertainment to the other shoppers at Home Depot. Don't freak out if people laugh, smile or stare at us while we get the sheetrock. We have grown used to it."
My 17-year-old son laughed a bit and then looked at me as if he wondered just what he got himself into this summer when he volunteered to help my dad and I finish remodeling our house.
Since March my dad has been coming to my house each morning to sheetrock over the blue flowered-and-striped wallpaper that has graced the walls of the home since my husband and I bought it 15 years ago. Per his request, I usually work on my computer in my bedroom office until he needs me to hold something or give him a pep talk if there should be trouble, such as finding that one of the walls was cement or that the doorway on the hall closet is not at all even.
That is unless we need to make a Home Depot run. The trips have caused me flashbacks to my childhood when my father would entertain my sisters and me on the weekends by taking us to hardware stores and lumberyards while my mother was busy with her real estate business.
My dad is not happy unless he has a new project. I'm feeling pretty lucky that for the time being, my house is it.
Now that I'm all grown up, I somewhat enjoy walking every single aisle in the store searching out the perfect molding. Especially because now it's for my house.
"I like this one Dad. It looks great."
"You think?"
"Yes, it's perfect."
"OK. Now let's just check out the other type of moldings to make sure you are getting the best value for your money."
These outings usually last about an hour, and it's not uncommon for me to laugh hysterically at least a few times. Usually because we have managed to get lost again in the hardware department or have forgotten the measurements of the latest wall we are working on and are trying to recreate them with our feet or hands.
That my dad and I have the easy-going, fun relationship we have, is a miracle. Growing up we never really knew what to make of each other. I was a creative, quirky kid who was born a liberal. He's an engineer and a die-hard conservative. We started having arguments over politics when I was about five, and we continued to have a very combative relationship until I was about 23. That was when he had a major heart attack, and I knew I might have a limited amount of time to make peace with him. We still don't agree about anything politically. And the fact that my son shares the same political views my husband and I have is a small bone of contention with him. But other than that, we have a pretty good time together.
This was evident the other day when we made yet another sheetrock run, this time with our newest crew member.
Now that my dad has finished the bedroom hallway, complete with crown moldings, we are finally ready to move onto the rest of the house. My dad promises me this will go much faster because it's not as complicated, and of course we have Tom.
"Kathy, make sure to park far enough away from the other trucks so they can't see us load the sheetrock in the van." My dad smiled at me, and winked at my son.
'I will dad." I then turned to my son. "Grandpa and I really seem to entertain people the most when we load up the van."
I guess the sight of a middle-aged woman and a 70-something man lift and load 12-foot sheets of drywall into a minivan can be a bit funny to the other cars in the lot. Most of them are professional contractors who know what they are doing.
I will admit things didn't go much smoother with our newest crew member. But they were funnier.
I looked up at my son and said, "This is why Grandpa and I are calling our construction company, Dumb and Dumber."
"Well mom, now we can call it, Dumb, Dumber and Son."
So if you have any construction projects coming up you know who to hire, or not.