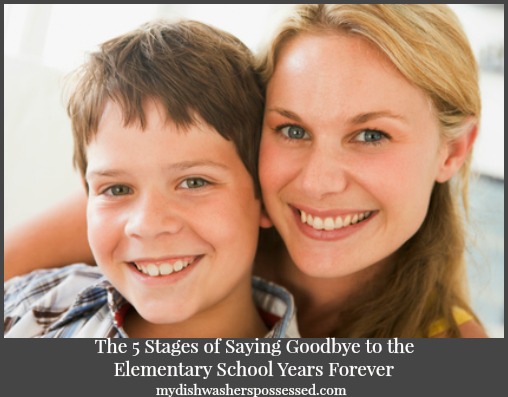 Last Thursday I sat in an all-purpose room full of other teary-eyed parents and watched my last baby  move up from elementary school to the new frontier of middle school. My time as a mom to a kid in elementary school is officially over.
I will never again go to a Halloween parade, read a story for "secret reader" day, or have to run out to Target at 8:00 pm so I can pretend that my kid actually slumbers in the nice sleep shirt and matching pants with a Mets logo for pajama day and not an old T-shirt of his brother's and a pair of sweats that come up to his ankles.
No more snacks to pack or turkeys to decorate as a family for the annual Thanksgiving project. Those days are gone for good.
Peter was my last, and I won't lie, I was getting a tad tired of all of the "mommy homework," required of the grade school years. The projects I was so excited to do with my first child lost a bit their shine the third time around. I was starting to feel ready for this chapter to close and for the new one of middle school dances, pre-teen angst, and braces to begin.
But as I was waiting for Peter's bus to bring him home for the very last time on Friday, all I could do was cry and beg for a for a do-over.
In those few moments, (with three kids, a house that is in the middle of a renovation and a deadline for work that had to be met, I had to use the Berlitz course for closure), I went through the Five Stages of Saying Goodbye to the Elementary School Years Forever.
DENIAL: It's just not possible that six years have gone by this fast. Perhaps I'm only dreaming he is now 11. That would make more sense than going through Kindergarten to fifth grade in what feels like less time than it takes to binge watch all five seasons of Homeland. At any moment I'm going to wake up and get a slobbery kiss from a six-year-old.
ANGER: I should never have started blogging and writing the year he started kindergarten. I have spent so much time concentrating on what my life would be like once my kids no longer needed me that I have completely missed out on the last six years. Why did I need a career anyway? I've spent too many days worrying about deadlines and not enough days enjoying every minute of my time with him.This is what I get for rolling my eyes last month when I got the notice that he needed to dress up as his favorite team for sports day. Now his childhood is over, and I have no one to blame but myself.
BARGAINING: I promise to never, ever curse under my breath when I get a note home from school telling me that my darling Peter did not like his snack, and could I please send him in with one tomorrow closer to his liking. I won't write back that if he didn't like the goldfish crackers he's been eating for the last three weeks, he shouldn't have packed them. (Though I did add a "LOL" and a smiley face.)  The next time I'm asked to collect 20 oatmeal boxes, I will do it lovingly. I'll never miss a field day again for a conference. Please, just please let him stay little just a bit longer.
DEPRESSION: Well, that's it. Those sweet days with little ones are over. I'm officially old now. Joe and I should think about putting a down payment on one of those assisted living communities.
ACCEPTANCE: I am grateful for getting to be the one who could be called when there was a problem and the one who could solve most of them. I'm so glad I was the one who could go on field trips to farms and science museums. I wouldn't trade any of those memories. But, maybe as much as I may miss this time, I am just as ready for this chapter to be over as Peter is. Maybe that's OK.
As I hit my last stage, Peter's bus turned the corner. The door opened and for the very last time he came out of a bus for me to greet him. "Mom, I'm all done with Pulaski. Now I get to go to middle school."
He is excited and happy about all the new adventures to come. And, truth be told, so am I.