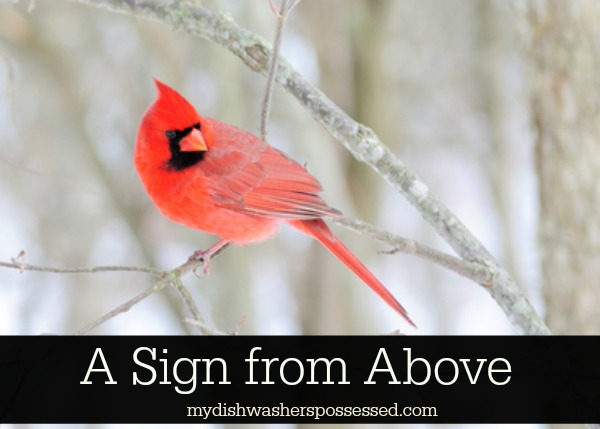 Throughout my life, in good times and bad, I've been comforted by signs and omens.
Whether it's hearing my favorite song come on when I'm feeling a little sad, or getting a call from an old friend at a particularly difficult point in my life, I've always seen these events as the way God or the universe communicates with me and lets me know I'm not alone.
About eight years ago, life was giving me a run for my money.
Our daughter Lizzy was going through a particularly difficult period.
Her special needs have never been clearly diagnosed despite her having been to every  doctor and specialist imaginable. Several MRIs showed significant brain damage, but no one could tell us what the results meant.
Sometimes it looked as if she might be okay and would be able to function in a typical classroom with just a little extra help. Other times it seemed as if she was getting worse, and we would get tests results that suggested we were dealing with something far more serious, perhaps even life threatening.
Lizzy was in kindergarten, and her behaviors were stumping her doctors, the school district, and her teachers. She was having a horrible time in her classroom, and I didn't know where to turn or what to do with her.
After some of her behaviors suggested she was having seizures, she was scheduled to have a 48 hour EEG in the hospital.
To make this time even more taxing, my father had a brain aneurysm, and he was scheduled to have his surgery about a week after Lizzy's stay in the hospital.
My father had become extremely important to me, not just as my dad. He was also my main support in helping me handle life with my kids.
Lizzy's issues were not the only thing on my family's plate. We had therapists coming in and out of the house for our youngest, two-year-old Peter, who was getting early intervention services for speech and developmental delays. Our oldest child, Tom, was getting vision and occupational therapy for his dyslexia and dysgraphia. It was very chaotic.
My husband has a long commute and is gone from 6 in the morning until 9 or 10 at night, and my mom's work as a real estate broker keeps her very busy. My dad had become my most trusted support system.
I could always depend on him to watch one of the kids, lend me an extra hand, or make me laugh.
His condition was very serious, and I was terrified that I would lose him.
I pride myself on being pretty strong, but how much more could I take?
It was the day before Lizzy's test, and I was running around getting everything ready so that I could leave Joe and the boys home for the weekend, while I stayed with Lizzy for her two-nights in the hospital.
In the midst of my rushing around, I stopped for a second to catch my breath and relax for a minute. I was looking out our front window when I started to sob.
Crying does not come easily for me. I can count on my hands the times, I've had an ugly cry.
But here I was, in my living room crying like a baby.
Through my tears I started to pray, well actually beg, for answers and strength. I desperately needed a sign that I could handle all that was on my plate.
I continued to sob when all of sudden I heard a loud thump, almost a crash, that stunned me out of my tears.
The noise seemed to come from the bay window but I could see nothing.
I went outside to find a bird lying dead on my front patio.
Yes, as I was sobbing and begging for a sign from God, a bird crashed into my window.
One minute I was sobbing, and an instant later I was laughing.
I called my dad and explained what had just happened.
Now we were both laughing.
"Kathy, that little bird gave up his life for you. You must give him a proper burial."
Which I did, laughing the whole time. I even managed to get him buried before the kids came home from school and Peter woke up from his nap.
As it turned out, my dad's surgery was a success. And though the EEG did not give us any more answers into what was wrong with Lizzy, I was able to get her into a program that worked much better for her.
And for the record, no bird has flown into that window again.
*This piece was previously published on the Dishwasher, August 24, 2014, under the title, Watch Out for Flying Objects. It has been slightly edited. Thank you for letting me revisit it today.