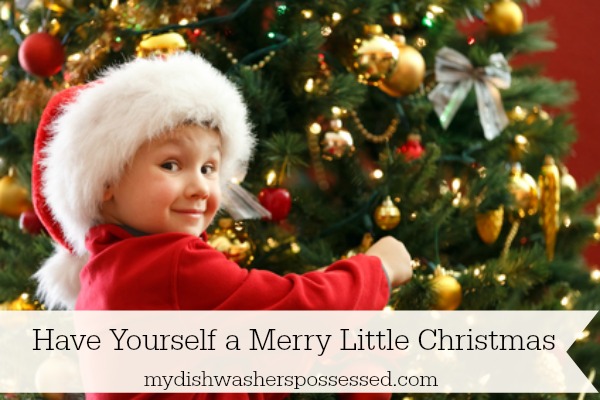 Yesterday I took my life into my hands and entered my husband's storage room, I mean office, to take the boxes of ornaments out so that we could finally get our Christmas groove on.
I know, I know. Many of you have had your trees up and houses decorated for weeks. My two sisters decorated their homes shortly after Thanksgiving. Joe and I have always danced to the beat of our own drum and wait until the weekend before Christmas to decorate.  
Some of this is because our oldest child Tom was born December 10th, and we have never wanted him to feel overshadowed by the holiday. And some of this is that it just takes us a bit longer to get our act together.
I am happy to report that our tree is now securely in its stand, and Joe and I have our traditional, that's-not-how-you-put-up-a-Christmas-tree argument behind us. We can finally start to hang the ornaments.  
I love this part.
If I was a nice mommy, I wouldn't think twice about having my kids put the ornaments on the tree wherever and however they wanted to. But I have to admit, I'm a bit territorial about the tree.
I'm not a person that's really big on possessions. I love having pretty things, but I'm not one to collect things anymore.
I was also raised by a mother who had some lovely things but never got upset if something was broken by one of my sisters or me. She may not have been thrilled, but she never made us feel bad. She would always say people are more important than things, and I grew up feeling the same way.
Unless it's a Christmas ornament. Then I become Mrs. Scrooge.
I love my ornaments. I've collected them throughout the years, and they represent everything from the time I worked in an office, got married, had each of my children, and watched them grow.
First is the big glass school bus the year Tom was obsessed with counting buses. Then there's the Paddington Bear ornament that he still loves to see on the tree each year. The glass carousel giraffe my mother brought back for Lizzy from Nantucket the year she was planning my sister's wedding. And how can I overlook Peter's teddy bear ornament that represents his dear stuffed bear, Fuzzy?
My mom would think nothing of letting my sisters and I hang her beautiful hand-blown glass ornaments. But I get twitchy just thinking of letting my children, who I love more than words can say, get their little hands on my precious collection.
I've relished my solitary time tying my ornaments and thinking of the people and times they represent.
Four years ago I finally gave in to my children's pleas to be involved in decorating the tree. I was actually starting to feel cruel keeping them from something they so clearly wanted to be a part of.
It turns out that watching the three children I brought into this world decorate the branches and watch the tree transform into a monument of Christmases past has become something I have come to really cherish.
I love hearing Lizzy giggle as she plays with the ballerina and Barbie ornaments she loves. It warms my heart to see Tom stop torturing Peter long enough to help him pick out just the right spot to put the train ornament I bought the year I was pregnant with him. I love answering questions about who gave us what or where we were living when we received it.
I may cringe every now and then, but in the end, my mother was right. They are just things. The experience and memory of being with my kids is far more valuable than any ornament I could own.
Wishing you all a wonderful and very merry Christmas surrounded by those you love!
*This piece has become a tradition on the Dishwasher. It first ran on December 18, 2011 under the name, O' Christmas Tree. Then it ran again, December 15, 2013, under the title, Memories Tied on the Branches of a Christmas Tree. Last year I published it on December 21, 2014, under the title, Deck the Halls with Memories. Each year it gets updated and changes as my family does.