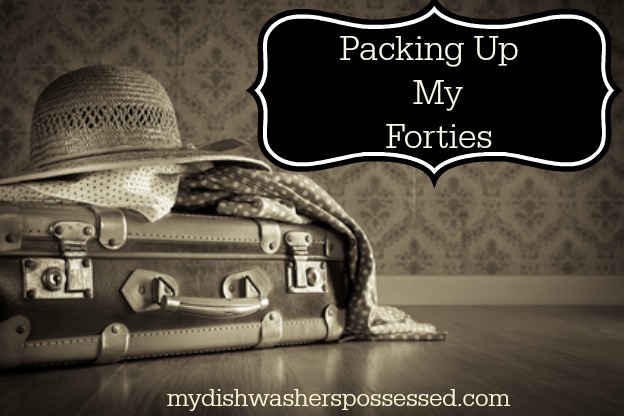 I hate moving. I'm not the best with change, and I always panic that I will make a mistake and take something I don't need, such as my collection of 90s work dresses that I just had to take with me to my new house 14 years ago. I was five months pregnant with my second child and had no plans to return to work at an office anytime soon. At other times I left behind things that I really regretted losing, such as my grandmother's antique wing chair. It was left on a New York City curb when I changed apartments about twenty-six years ago.
This time I need to be careful because I'm not packing up a house, I'm packing up a decade. My forties will expire in about a week, and I want to make sure I bring the things I want into my fifties and discard forever the I'm-way-too-old-for-this-nonsense stuff of the last five decades.
When I entered my forties, I was a married mom of three, with my youngest only six months old. Baby bottles, cribs, and teething were all firmly in my present and future. I have to say it's with a little sadness that those things are gone for good now.
I spent so many years wanting and raising babies that to firmly say goodbye to those years is bittersweet for me. I will miss being a mom to younger kids. But I am totally enjoying getting to know the people my kids are growing into.
My fifties will most likely give me a ringside seat to first loves, first jobs, and first heartbreaks. I look forward to it all. (Well not the heartbreaks, but I will be glad to give them a safe place to land.)
I'm also bringing a new passion and career with me into my next decade. The dyslexic girl who was too fearful to admit that she wanted to be a writer is now a woman who is on her way to being able to claim that profession on her tax return. I never imagined finding something that filled me with as much satisfaction and joy that performing brought me in my late teens and twenties, but that is just what I did the day I started writing and sharing my stories online.
Of course I'm taking my husband with me. (I'm sure he will be happy to hear this.) I can't believe we have been together 25 years and married for almost 23. We started dating in July of 1990, and I have spent more time with Joe than without him. Thank God.
Now for what won't be coming with me. After five decades, I'm finally getting rid of the phrase, "I can't." These two words have dominated my vocabulary for about as long as I can remember.
The list of my one-time "can't do's" have included, but are not limited to, driving, college, typing, writing, blogging, gardening, co-founding an online magazine, and mastering a myriad of social networks.
I now know I can do far more than I ever thought I could, and I'm going to continue to push myself to try new things. If for some reason I don't master something (Zumba comes to mind), it won't be because I didn't try.
Saying-yes-when-I-want-to-say-no will also not be welcome in this new decade. I must say that I'm quite glad its appearance has been sparse these last few years, but since it can be a real stubborn little bugger, I'm making it very clear that it's persona non grata.
Disparaging remarks about my body will not be tolerated. This is a little harder because I'm not at a weight I'm happy with, and I can far too easily rattle off a list of things I can find fault with. But, this body has seen me through five decades, four miscarriages, three children, years of not enough sleep, way too much stress, a host of adventures, and many near misses. The least I can do is be kind to it.
As I think about the treasures that I'm taking with me and the things that I'm leaving behind, I can't help but feel so much gratitude for my first half century. I'm especially grateful for all the people who have crossed my path in big and small ways. I am truly excited to see not only what the next decade brings to me but what I can bring to it