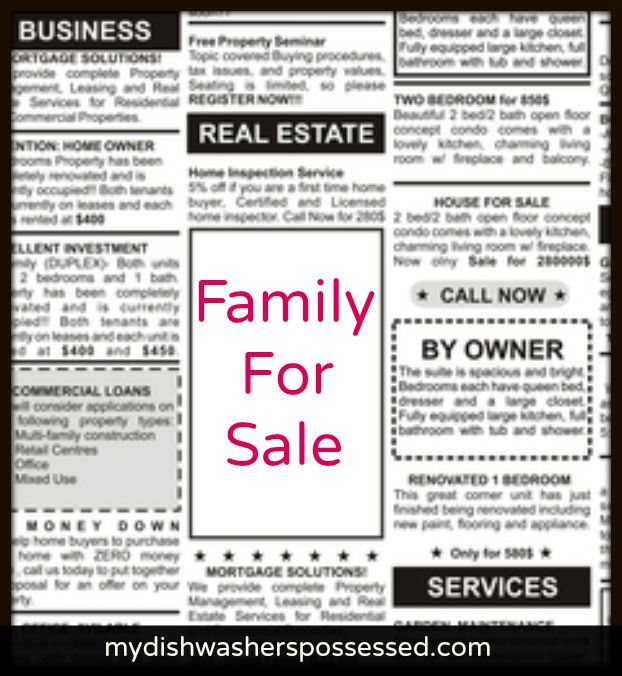 After a very crazy few weeks which have included, but are not limited to, a husband who was injured and bled so much it looked like a crime scene, sick kids, doctor visits, dental issues, broken appliances, various children having meltdowns over homework and lost shoes (which would not be lost if people would only put them in the basket conveniently located at the front door like I have told them a million times!) plus a certain 10-year-old who decided to try his hand at using a four-letter word while in the library today, I have decided it's the perfect time to put my family up for sale.
Don't get me wrong, I adore them. But boy am I exhausted. If you know anyone who is looking for a lovely, albeit gently used, husband, and three kids, have them call me.
NOTE: I am only interested in a buyer who will take the whole set, which includes:
ONE HUSBAND: Very sweet, and very tall middle-aged professional. Slight control issues, but since they revolve around his need to have all household tasks done as he likes them, it means that he will be more than happy to do all laundry, the loading of the dishwasher, most food shopping, and cooking on the weekends. Though this does mean you may find that you are left in charge of the children when he is doing the errands. (Did I mention that he is very smart?)  He is a very good provider and hard worker who does the long commute to his office with no complaining. And even though he gets home late and is exhausted, he will still help a teen with homework and bring his wife a cup of coffee. Not at all handy, but does have a good sense of humor about it. Interested in sports and politics.
ONE 16-YEAR-OLD MALE: Hard working, very bright, high school junior who just got his learner's permit. Typical teen angst of homework and school pressures. Takes grades very seriously. Likes spending time with his friends and his iPhone. Does not like it when he is asked to clean his room, but he will do it. Slow to wake up for school. Extremely picky eater. Is starting to spread his wings and assert his independence, though he will still let his mother kiss him goodbye and goodnight. Sweet kid who loves the Beatles, Elvis, and Buddy Holly. Also has interest in movies and politics. Does not like it when brother or sister bug him and has occasionally had to be reminded not to kill younger brother. But he is also the first person to help said siblings when they have a problem.  
ONE 13-YEAR-OLD FEMALE: Extremely sweet girl who has dealt with significant special needs her whole life. Has a smile and laugh that will light up a room. Can get the grumpiest person in a store to smile. She is a hard-working child who has accomplished many things the professionals thought she never would. Feels that her mother is ruining her life but since words have never come easily to her, you might find yourself happy when she is able to express herself. WARNING: Very hard to stay mad at this one. Loves school, Broadway music, Disney movies, Barbie, and all things relating to princesses. In fact believes she is a princess and will have no problem telling you that. Loves her brothers, although she does enjoy bugging them. Will also come to their rescue if they are in trouble.
ONE 10-YEAR-OLD MALE: Despite deciding that today was the perfect day to try using a four-letter word in public, he is a very sweet boy with big green eyes and a dimple. Can be extremely charming, which is good because he has been known to wake parents up in the middle of the night with questions such as can he build a rocket ship? Visit Mars? Or join the circus? Will make you laugh and scream about a million times a day. Very creative, capable of building a city out of straws and paper cups. Loves art and music. Has a great sense of humor and can laugh at himself. Enjoys bugging his older brother and sister. Will also make brother or sister lunch or a snack because he knows they have been having a hard day. Will still hold mom and dad's hand when out in public. Gives the sweetest kisses.
I apologize for wasting your time. After careful consideration, as well as realizing that I'm not always a prize myself, I have reconsidered and will not be selling my family after all. I do however have a few appliances I wouldn't mind getting rid of.