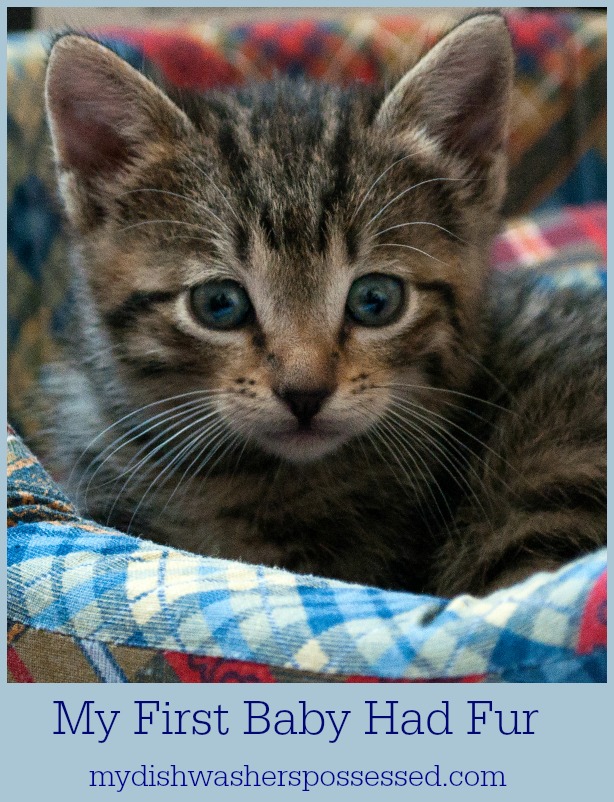 My husband and I are planners. We rarely jump into anything blind, whether it's buying a new car or a throw pillow for the sofa. We research our purchases and discuss our options.
Three years into our marriage, we felt ready to start a family. We weren't the type of couple that was just going to throw out the birth control and let nature take it's course. No, we were going to plan for this momentous new chapter in our life.
This plan included getting a cat. We figured that if we didn't kill the cat, we could probably handle a baby.
We lived in Manhattan at the time, and we decided to adopt a cat from the ASPCA. The woman who conducted our adoption interview took one look at us and said, "We have the perfect cat for you."
Joe and I took one look at the little cat in the big cage, and we instantly fell in love. How could we not? She was a four-month-old kitten found wandering the streets of New York City, and she had the sweetest face you could imagine.
We named her Samantha and went predictably crazy over our new addition. Many, many, many, people made fun of how over-the-top bananas we went.
I'll never know why.
Perhaps it was because she had more toys than most children. Or the hour we spent agonizing over the perfect collar and pet tag for her. Or, it could have been our decision to feed her the pricey specialty cat food that could be found only in pet boutiques.
Well we had to do that. The one time Joe had the nerve to pick up a grocery store brand, she picked out each inferior piece and left only the fancy brand in her dish.
Did I forget to mention she was a genius? How could we feed her Tender Vittles when she so clearly was telling us her preference?
Perhaps we were a tad obsessive.
It didn't help that poor Samantha had a chronic viral condition, so she frequently got eye and respiratory infections.
I'm kind of embarrassed to admit it, but I remember one night at 12:00 a.m., Joe and I got into a cab with our "baby" so we could take her to a 24-hour vet because we were so worried about her.
The poor thing had a plethora of prescription drops and antibiotics. We became quite skilled at getting her to take each and every one, and the skills have been put to good use with three children.
Nights that previously were spent reading or watching a movie were now spent playing with our sweet cat. Joe would take her out into the hallway of our apartment building and run back and forth with her.
We especially loved it when our neighbor's three-year-old son would knock on the door and ask to play with Samantha. She may have looked like an ordinary cat, but to us she was our baby.
She was also a great comfort to us at one of the saddest points in our life.
Each of the four times I miscarried, it was Samantha who would sit with me in the dark as I mourned my loss. Holding her and feeling her warm fur helped with the devastation I felt over our losses.
When we left our apartment for a house in Queens, Samantha kept me company and made the move less traumatic. I could focus on her adjustment to the new house and not think about my own.
Looking back, I crack myself up about just how nuts we went over her. But our sweet cat did what we hoped she would do, she helped us get ready to be parents. And, in her own way she made us a family.
A little more than two years after our first miscarriage my husband and I welcomed our first child into the world. If you thought we went overboard over the cat, you can only guess what a fuss we made over our beautiful newborn son.
In the months before Tom was born, I diligently got Samantha ready for the changes that were coming. What I didn't anticipate though is that our new son would be extremely allergic to our first baby.
Luckily for us, my father-in-law was only too happy to give Samantha a new home. The two of them became great friends for the next 12 years.
After a rough start to life as a stray cat on the streets of New York, Samantha got to live to the age of 15, with most of those years spent in a comfortable home in the suburbs. Four years ago we had to make the agonizing decision to put her to sleep after a very long illness ravaged her little body.
I always do my best to keep my feelings in check and in control around my kids, but when I got the call that Samantha was gone, I just sobbed. I missed my friend.
I have been blessed with many mentors in my life. People who challenged me to become the person and parent I aspired to be. With the risk of causing my cousin, Donna, a laughter-induced heart attack, I consider Samantha "the cat" one of them.
Samantha got me ready to be a parent like no teacher, parent, or friend could. She gave me first-hand experience in caring and loving something that was totally dependent on me.
I will always cherish the sweet memories of her and how she helped Joe and I get ready for the adventure of raising the three wonderful children we have now.

This is a re-working of the first piece the Dishwasher and I ever published. Four years ago I started my blog on a platform that Family Circle had called, Momster.com and published this piece there on 11/20/10 under the name, My Four Legged Mentor. When I moved the Dishwasher to Blogger, it ran under the same name on, 8/7/11. Thanks for letting me share it with you once again.