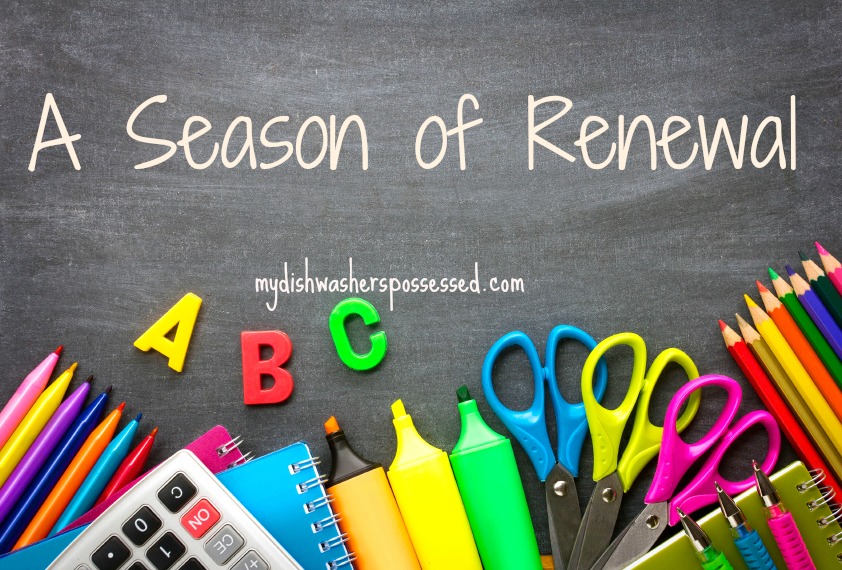 Wednesday was the first day back to school here in our little corner of the world. There were backpacks to fill with a year's worth of school supplies, snacks to prepare, and forms to sign.
I woke up extra early to make sure that everyone's clothes were laid out and that the morning would go off without a hitch.
Then I got busy with the real work of the day. My work.
I made three signs that announced each child's grade. I made sure my phone was charged and that my nine-year-old hadn't decided to take 300 selfies the night before.
Tom was my first victim. The bus to high school comes early so he was up and dressed at 6:45. This was no small feat since all summer he was getting up around noon.
I was expecting a fairly grumpy teen. Considering how sleep-deprived he was, his mood was pretty pleasant.
This was crucial to my plan.
"OK Tom, can you hold this sign?"
"What?"
"This sign. Please hold it so I can take a picture of you for the first day of school."
"Seriously? You want me to hold a sign that says, "First Day of 10th Grade?"
"Yes, that's why I handed it to you. Come on, you don't want to be late."
He looked at me as if I'd lost touch with reality.
He's watched me go from a woman who was proud of the fact that she didn't have an email address, to a woman who wrote a weekly blog and can recite her social media stats in her sleep.
"Mom, really?"
"Hold the sign and let me take a picture of you. Now." This was first said in a louder-than-normal tone. Then we both just cracked up. (But don't let the laughter fool you. I was dead serious. There was work to do.)
He gave me his best, my-mother-has-finally-flipped look and posed for the picture.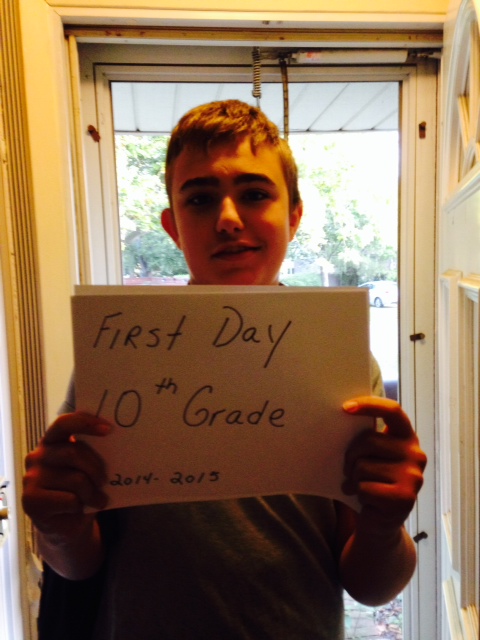 One down, two more to go.
Now it was Peter's turn.
He's all dressed and ready to start fourth grade. I love this child. He sees the sign on the kitchen table.
"Oh, mom you made me a sign. That was so sweet of you."
Well, we now know who wins the favorite-child-of-the-day award. No contest.
Peter is a willing model, and the picture looks cute.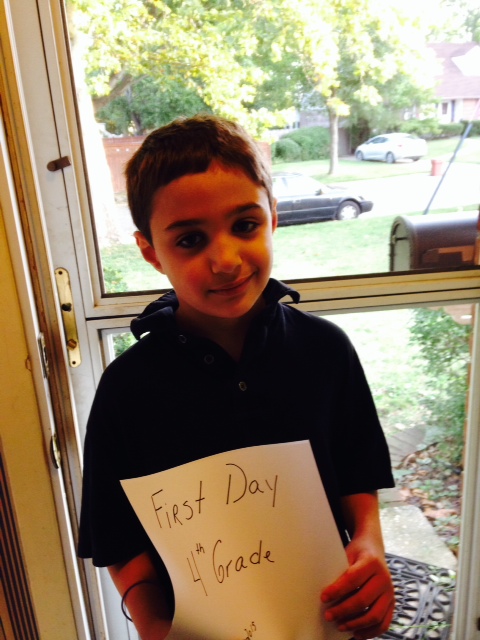 His bus comes and now I have two down.
Only one more left.
Since Lizzy's special needs make life challenging at times, she can be a bit tricky to get ready. But after a two-week break between camp and school, she was desperate to get back to her friends and teachers. It was pretty easy to get her ready.
She was a little too thrilled to be leaving her mother.
I hand her the sign that says, First Day of Sixth Grade. and she lets me take a few pictures.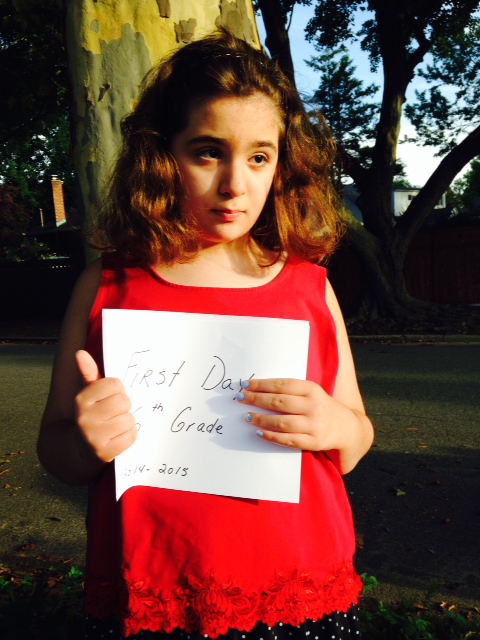 Lizzy's bus comes and she very happily gets on.
Oh happy day! All the babies are gone!
My husband, Joe, is working from home today. I know what he is thinking; now that the kids are gone we can enjoy some time alone. Hopefully before his morning conference call.
Silly, silly man. I have my own work to do.
After taking a few pictures of myself I now get on the computer, make a little collage, and start posting my masterpieces on Facebook and Twitter.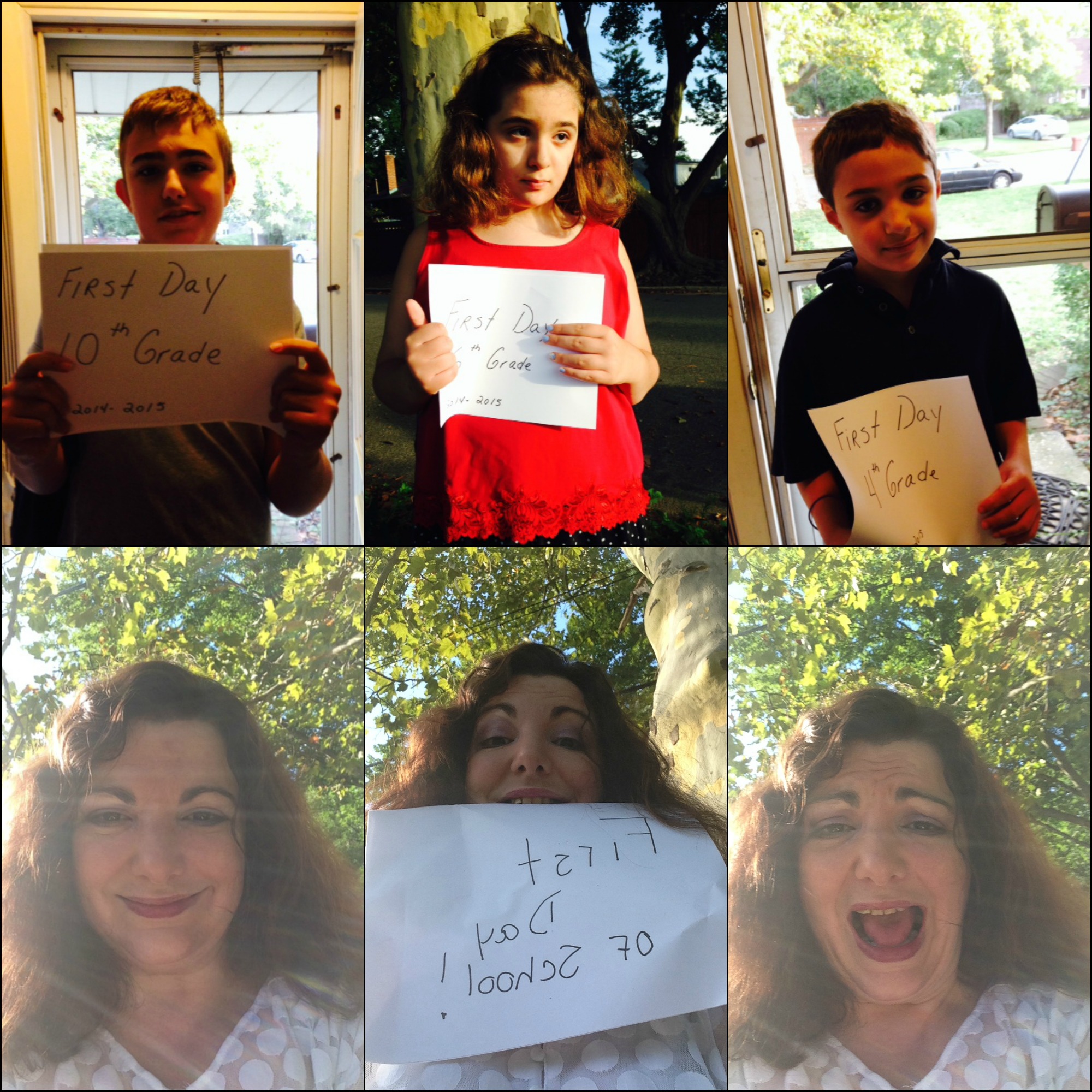 I think I may have detected a look on Joe's face that wondered if perhaps the woman he married has taken this blogging thing a bit too far, but since he's still hoping for some time with me, he wasn't going to say anything that might ruin his chances.
Time flies by and I don't even realize that I have been at my computer for over an hour posting pictures, writing witty comments, and answering emails.
The phone rings and it's my mother wanting to know how her grandchildren did getting off to their first day of school.
"Oh, just great. They all seemed happy to be back. Even Tom.
"Well Kathy, now that they are gone, what have you been up too?"
I know she was thinking of all the dusting, window washing, and general cleaning that I had neglected all summer. I know the way my mother's mind works. Surely I must be up to my elbows in Endust and Windex.
"Mom, clearly you have not been on Facebook. All those pictures don't just magically appear by themselves. And then I have a book review to finish for my blog. Let's not even get me started about all I have to do on Twitter."
She gave me her best, "Oh, that's great dear" and hung up.
It was then that it occurred to me, my little "hobby" that I started almost four years ago when Peter started full day kindergarten, has become so much more than that. After 40 something years I've found a career path that I love as much as I love being a mom.
The fact that I can torture my family in the process is a bonus.