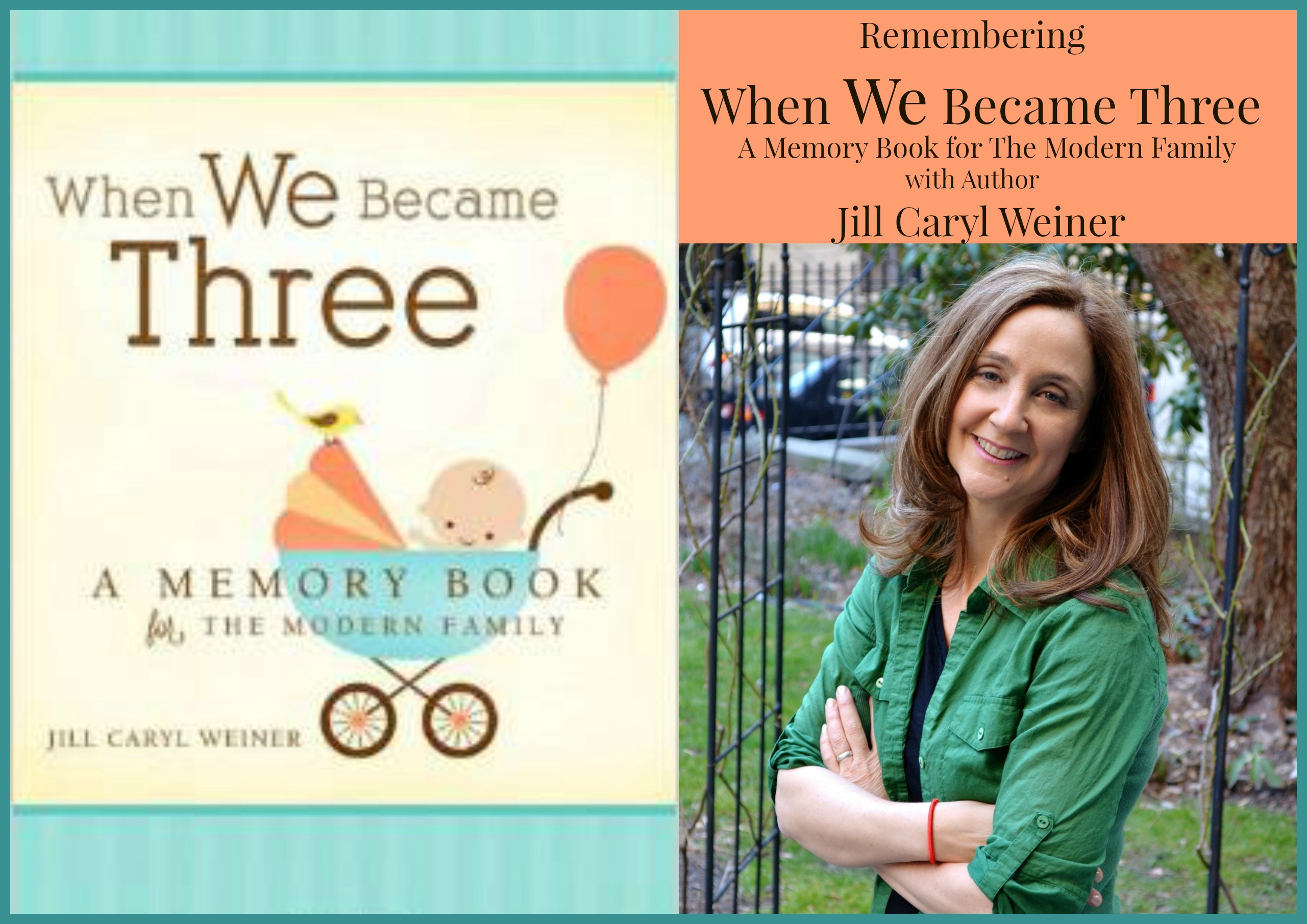 As I yelled at my teenager to stop torturing his younger brother for the hundredth time this morning, I struggled to remember when my statements to him weren't, "Will you please stop _________________."
When Tom was born almost 16 years ago, I vowed to never forget one precious moment of our early days together. I wanted to burn into my memory every single giggle and smile.
I'd always assumed I'd capture every moment in a journal or baby book, and when my son reached 16, I would hand him a complete record of his babyhood. But the few baby books I was given at my shower seemed so daunting in my sleep-deprived, stress-induced new mom frenzy, that I never got beyond the first few pages.
When our daughter Lizzy joined our family three years later, followed by our son Peter, my baby book fantasy had gone the way of the imaginary quilt I was going to learn how to make with all my darlings' baby clothes.
So I was very intrigued when Jill Caryl Weiner reached out to me about her new book, "When We Became Three: A Memory Book for the Modern Family"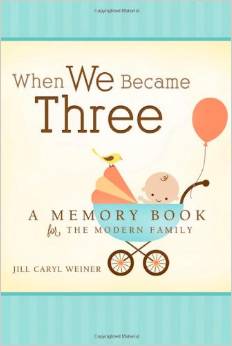 Jill has written about parenting, sports, and people for The New York Times, New York Magazine, Time Out New York, and Mom365.Com. Her two children are 14 and 11.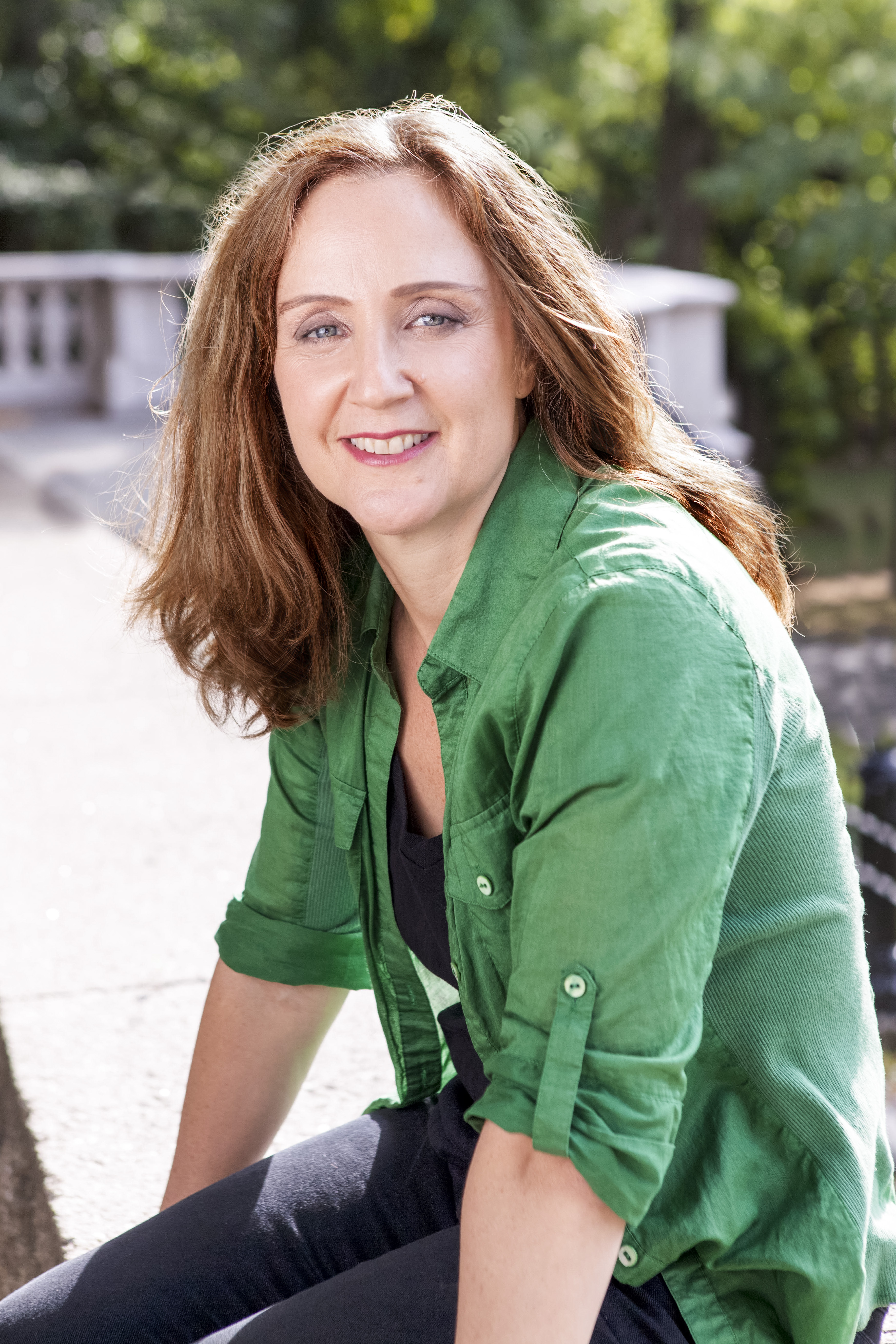 She has taken her talents as a writer and her passion for her children and turned them into a really fun alternative to the traditional baby book.
I was curious what made her decide to do this type of project for her first book.
Jill said, "I saw an opportunity to do what no one else had done: create a fun, optimistic, witty & romantic memory book– something that isn't just a mommy journal or a baby book but that's a great keepsake about baby, mom – and, yes, dad!"
I love how she took the baby book format and turned it on its head to give parents a really meaningful way to capture this extremely special time in their lives.
To give you an idea of what you'll see in the book, When We Became Three, I decided to have a little fun and ask some of my favorite parenting bloggers to answer a few of the questions from the book.
Please welcome: Celeste of RunningNekkid, Alyson of The Shitastrophy, Lucy of My Life As Lucille, Janine of Janine's Confessions of a Mommyaholic, Stephanie of When Crazy Meets Exhaustion  and Meredith of The Mom of the Year .

Thanks to Jill for helping me to decide which of her many amazing questions to include.
If we were making a time capsule about our relationship before Baby, what would we be sure to include?
Celeste – A picture of our sailboat and a bed with only two people in it.
Alyson –  A sexy negligee (I forgot what one of these looks like)
Lucy – Maps. We traveled on many adventures all around the country including Washington, California, Texas, Utah, New Mexico, the Black Hills, Colorado, Yellowstone, Glacier Park, the Grand Canyon, Canada, and Mexico. My husband and I were married 12 years before our children were born!
Janine  –  I would have to include the first gift my husband ever gave me, a silver Claddagh ring. Even though it broke, I can't bring myself to get rid of it because it was his way of telling me that he loved me for the first time.
Stephanie – Sex. All the sex.
Meredith – Sleep and a square of clean, vacuumed carpet
Which of the seven pregnant dwarves were you? (Happy, Sleepy, Weepy, Moody, Hungry, Grumpy, Queasy, or Other?)
Celeste– Weepy. it was a high risk pregnancy and I was extremely worried.
Alyson – First trimester: Sleepy no doubt! 2nd Trimester: Happy. 3rd: Grumpy. It didn't help I had gestational diabetes with both and couldn't eat the food I really wanted and craved. So I was pretty miserable.
Lucy –  Somehow, I morphed into several different dwarf identities during pregnancy. First, I was Queasy and Sleepy. Then, I was Weepy and Happy. This made for a very interesting combination. I couldn't even watch 10 minutes of any movie without bursting into tears. Then, five minutes later I was happy as a clam! During the last three months of my pregnancy, I was Hungry. Actually, HANGRY. Oh. So. Hangry. I think I gained about 15 pounds on Cheez-Its alone!
Janine –  Can I pick more than one? Seriously, I was a combination dwarf with being all of the above at different times of both my pregnancies. Sometimes I could be more than one on the same day.
Stephanie –  I was Happy. I love, love, love being pregnant! My husband said I was more "agreeable" when knocked up, and I'm still deciding if that was a compliment or what…
Meredith– Miserable
What was the best thing about being pregnant?
Celeste – Feeling the baby move around, once I knew it wasn't just gas.
Alyson – Feeling my kids move inside me, I loved when a little foot would push up on my belly, and you could see the imprint of it.
Lucy – While I was pregnant, I felt better than I had ever felt before (other than the weepy, queasy parts). I was filled with joy, hope, and anticipation for the changes to come when our baby was born.
Janine –  One of my favorite parts of pregnancy was to feel both of my girls kicking and moving about. I always loved that stage and usually made the pregnancy that much more real for me.
Stephanie –   Where to begin?! My big belly made my big butt look smaller, which was lovely. But my very favorite part about being pregnant was knowing that I was growing another human. Feeling the baby move, watching my bump grow, having this indescribable bond with a new little person… I'm sorry, my ovaries just exploded.
Meredith – It ending (I'm so sorry, I was just a really, really horrible pregnant person)
If baby (or if your little one) was a baby animal, he/she would be:
__ A piranha – always eating and sniping at Mom
__ A koala – cuddly and always snoozing
__ A puppy – joyous and mischievous
__ A howler monkey — constantly wailing
__ Other __________________________________
Celeste –  Other. The cartoon version of the Tasmanian Devil for maximum destruction.
Alyson –   A puppy – joyous and mischievous.
Lucy –  Thing 1 was a squirrel – cute, sweet, curious, and constantly distracted.Thing 2 was a howler monkey — CONSTANTLY wailing.
Janine –  A puppy — joyous and mischievous.
Stephanie –   A koala — cuddly and always snoozing.
Meredith – A howler monkey — constantly wailing.
What precious moments with Baby do you want to remember forever?
Celeste – All the newborn moments when we were both alert and we would just look at each other. The goofy, cross-eyed faces she made when she was tiny just made my heart soar.
Alyson – All of them, the good & the bad. They made me laugh so much and brought me to tears often, but I wouldn't have it any other way.
Lucy –  I want to remember that feeling I had when we carried our little ones out of the hospital and put them in the car to go home for the first time. On the ride home, I was flooded with emotions. I remember thinking that we were bringing home a little person who we would be responsible for raising. It was the most amazing feeling in the world, knowing that our life would never be the same. For the better. Nothing can compare to that feeling.
Janine –  I actually never want to forget those crazy nights in the beginning when Emma wouldn't fall asleep until the wee hours of the night, because many of those nights we crashed on the couch together. She would finally fall asleep the first month or so on my chest and I wouldn't dare move her, because if I did she would wake screaming again. Sounds barbaric, but I will be honest, she was cuddly and quiet in the moments and so very tiny and helpless that I remember as tired as I was staring at her still in awe that she was indeed mine before passing out a bit myself.
Stephanie –  I want to remember what each of my babies felt like moving around in my belly, what they looked like when they were placed on my chest right after birth, how their little faces scrunched up in concentrated sleep, what it felt like when they wrapped their whole hand around my finger, the way they studied my face with their innocent eyes all, "Hey, Mom, I think you're pretty great." I could go on, but I have something in my eye.
Meredith – Sleeping with my daughter laying flat on my chest feeling her breaths go in and out–amazing.
Thanks again to my friends for walking down memory lane with me.  If you would like to get a copy of When We Were Three — I can't think of a better shower or new baby gift — you can get it Here
And thanks to Jill for sharing her great book with us and for giving me a great idea! She is in the process of filling out a copy of the book to give to her daughter for her 15th birthday. Tom turns 16 in three months! Looks like I just might be able to give him that gift after all.
Who knows maybe I will start the baby clothes quilt next! A girl can dream can't she?
* I was given a copy of the book for the purpose of this review. No other form of compensation was provided and as always, all opinions are my own.