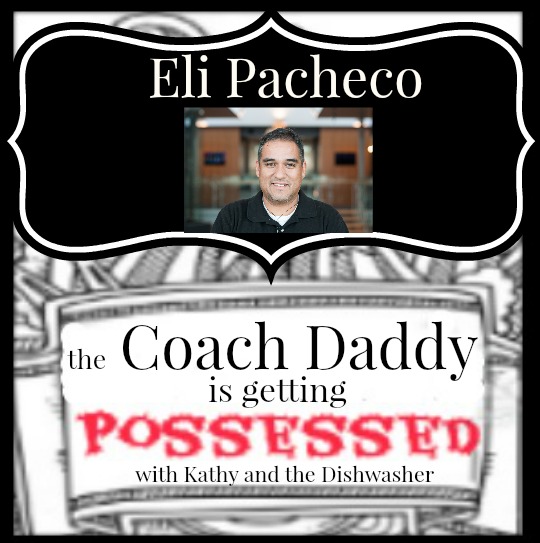 Welcome to the 14th installment of Getting Possessed with Kathy and the Dishwasher.
I always love getting to share some of the amazing bloggers and writers that I have had a chance to get to know in my three plus years of blogging. And of course, the Dishwasher really enjoys learning about other demonic appliances that reside all over the country.
This month the Dishwasher and I are excited to have our first dad blogger here. I'm so thrilled to introduce you to, Eli Pacheco of Coach Daddy.
I met Eli back in December when he asked me if I would participate in his, Six Words Series. Each month he gives about 30 bloggers a prompt, such as An Ode to High Blood Pressure in 6 Words or Our Kids Eating Habits in 6 Words and asks for a complete post in, yes, you guessed it, six words. It's such a fun series to not only participate in, but to read.
When BlogHer announced the selection of their annual Voice of the Year winners, I was so excited to see Eli's name among the winners for his gorgeous piece, Would You Die for me Daddy.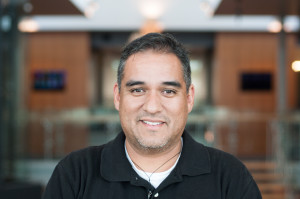 Eli what made you start blogging about your experience as a dad to three girls?
They're what I know best. I'm no expert, don't get me wrong. And I've messed up in a lot of different ways in life. But there's nothing, not coaching, not writing, that makes me feel as tall and strong as being a dad. I want the girls to always know that.
Is this your first blog?
On my own, yes. I've contributed to blogs for work. I also was part of Modern Parent Online, a local page for parent blogs. It's where I got my start. Just before the ship sunk, I copied all my posts there and went rogue with my own blog.
How long have you had Coach Daddy?
Two years and a month. In a year, I'll be old enough to run in the Kentucky Derby. I've learned a lot in that time. I read so many posts about how to do this. I had to find out on my own that you have to make your own way. No two ways are alike.
Do you think there are any special challenges that dad bloggers face in a field dominated by moms?
Many. We should write for women, but not like women. We shouldn't be ashamed of what's at our core, even if it's a bit cro-magnon. You can't treat moms who read your blog like a sorority mixer. You have to honor them as moms first. Even the swoony ones. Especially the swoony ones.
What are the three posts that you feel best sum up your blog?
I'd say the first is Would You Die for me Daddy? Not because it was a BlogHer Voice of the Year, but because it demonstrates what happens when you talk with your kids about the world. Sometimes you wind up with a question that rocks you to your core.
On the Prowl – for Page Hits pushed me out of my comfort zone, big time. I had to approach it like a Casanova, which I am not. I'm more Walter Mitty. I think it conveyed my hope at the time to reel in readers, one hot mama at a time.
I'm a Disgrace to My People also makes the list. It's an early post about how lousy I am at being Latino. I think it sums up nicely just one of the juxtapositions I find myself in as a writer, or dad, or coach, or, in this case, a Latino without the language.
What do your girls think of you being named a BlogHer Voice of the Year?
Elise was with me when I found out. I had all these emails congratulating me, but didn't see the official one from BlogHer. I was in shock. "BlogHER?" she asked. Yeah. Don't tell them I'm a dude! Maybe they thought it was Ellie Pacheco.
They're proud. Grace takes all the credit for asking the question.
How do they feel about being the subject of some of your posts?
They love it. I usually run a post idea by them first. Sometimes, things happen and Grace will say, 'that'll be on the blog.' We decided not to use their real names. I wrote about them beating the boys in a game at the pool. Suddenly, they wanted me to use their real names. I told them it was too late.
I love that!!
Okay, the Dishwasher really needs to know, what is the one household appliance you could never, ever go without?
The electric skillet. I'd whipped up the fluffiest pancakes and cheesiest quesadillas on that puppy. My niece bought it for me for Christmas. I can get everyone's grilled cheese going at once, too, to avoid having to choose one kid over the others. Too often.
If you could invent an appliance to do any chore in the world, what would you invent and why?
I'd invent the Priority Maker. A fool-proof machine (or app?) that could input all the things that are important to me, and tell me precisely how much time to spend on it. And when. When to run, write, sleep, play, listen, everything. And eat. And snack.
That is genius!  I think every parent could use that.
Now, here is the all important question, have you ever had a possessed appliance?
I think a Catawba Indian chief possesses my TV. It'll just shut off. Not during Braves or Redskins games, but at odd times. I'm convinced our house is built on an ancient burial ground. Heck, the ghost might just be from the 60s, but this sounds fiercer.
Excellent.  I have never had anyone mention a possessed TV before!
Eli, what is the best gift you have ever bought for yourself?
The huge tent I bought with a gift card my soccer team gave me last year. This thing is palatial. A stegosaurus could fit in it. It has a foyer. Seriously. We've used it only a few times, but it's the Cadillac of tents. It should get more road time this summer.
What does being possessed mean to you?
It means driven by an external force. This could be good, or bad. I feel possessed when I open up a document to bang out a post. I feel possessed, in a calm way, when I adjust strategy at halftime of a soccer match. And I cook possessed, for sure. But that's more something that should be exorcised.
What possesses you right now?
A desire to get on the right track. To use every moment as it should be used. Both the moment for working hard, and the one for leaving it all behind. To be fully engaged where I am, what I'm doing. I want to model this for my girls.
Eli, I love this!! Is this something that possessed you five years ago?
Not like this. Back then, it was about finding work I could love. Or, work in general. I didn't have it. When you have work you love, then lose it, it's tough to find again. It takes patience. Back then, I just wanted to work again. I'm on the train now. I can key on bigger things.
What do you think will possess you five year from now?
Wondering if Marie will choose the same school Elise did for soccer, and seeing them play together one last time. Watching Grace tear it up as a high school freshman, following her sisters' footsteps and blazing her own trail. I want them to remain close. And to take me along with them.
Many thanks to Eli for spending some time with us today. Please do yourself a favor and check out Coach Daddy. You can also follow him on Google +, Twitter, LinkedIn:, Pinterest.