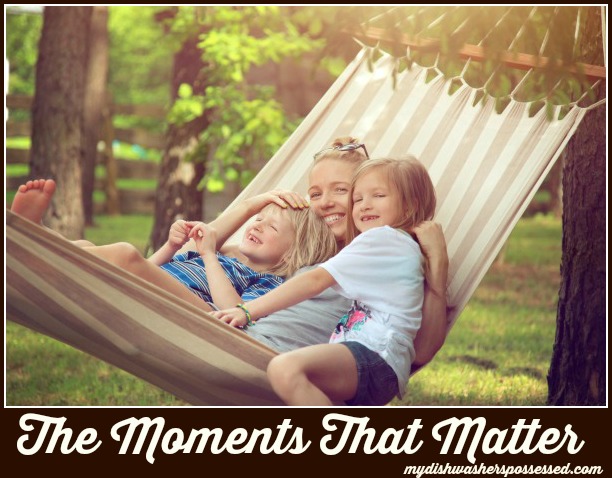 I've been playing around with the notion of how a mom knows whether she's doing a good job.
It's not like we get a performance review each year with a list of what we accomplished and a raise from the boss. Motherhood isn't that type of job. Three years ago, I was toying with the same idea and wound up publishing this piece under the title, A Great Gift. It has been edited from the original that appeared on the Dishwasher on May 8, 2011. Thanks for letting me revisit it today.
Last week I found myself in a bit of a twilight zone moment. My 12-year-old son, Tom, was not acting like himself. He was acting, dare I say… like me.
"Tom, can you please help your sister with her seat belt?"
We were running around as usual, and I've come to depend on the hand that Tom can give me with his younger brother and sister.
"Lizzy, do your seat belt, and, I don't want to hear the itty-bitty voice."
I was surprised by the "tough love" approach he was taking with his sister. Tom has always been under Lizzy's spell and is usually so sweet and protective of her. This was a new tone for him to take with her.
"Tom, what is the itty-bitty voice?" I asked, very amused.
"Mom, you know when Lizzy acts like she can't do something and she just starts saying nonsense words and acting like she's helpless. That is the itty-bitty voice. I know she can do her own seat belt."
"I know you can do it yourself," he called back to his sister.
"OK Tom…I did it," Lizzy said, very pleased with herself.
Then Tom turned to my six-year-old, Peter.
"You can do your own seat belt, too. You don't need me or mommy to do it."
I was so impressed. He was right, too. I know Peter can do his own seat belt. And, I have no problem being tough with all my children and insisting that they do things that they think they can't.
Sometimes it is just easier to do it for them. Especially with Lizzy. She can be so entrenched in her own world that the effort to penetrate it for something minor doesn't always seem worth it.
But Tom was handling them both beautifully. As only a big brother can, he let them know that they no longer needed that kind of help.
Living in a special needs household can really be a trip.
Since I'm dyslexic and have never been able to tell my right from my left, I've never believed in hiding the fact that we all have something that makes the world a little challenging for us.
I've been on top of my children's issues from the beginning of time. Each child was only a baby when we were lucky enough to discover their differences. Speech, occupational, and physical therapists have been a normal part of our lives since Tom was 18 months old.
"We are who we are" is a frequent phrase in our house. Living with people who, like me, all have some challenge can be frustrating at times. It can also be really funny.
My husband and I still laugh about the time we were having lunch on Christmas Eve about four years ago. Anytime we all go out can be stressful. It's not unusual for me to use phrases such as, "Use your words." "Take a breath." "Car 54 where are you?"
This particular day, each child really pulled out the stops.
Christmas can be especially touchy for us because of the dreaded holiday music. Tom has overcome almost all of his sensory issues. All, except his fear of high pitched sounds. Particularly a note that Josh Groban hits in "O Holy Night."
We are probably the only people on the planet who threaten a child with playing a Josh Groban song to deter misbehavior.
Peter was only a toddler at the time and unbeknownst to us had an ear infection. And Lizzy, whose special needs are the most extensive of the three, was very far into her own world. She was sitting in her chair talking to herself in her own "Lizzy language."
We were just wrapping up the meal when wouldn't you know it, Josh Groban comes on the radio. Tom, who thankfully no longer screamed when he heard the offending "noise" put his hands over his ears.
As I was calming Tom down, (Take a deep breath. It's OK. Get over it.) Peter started to get fussy so I reached over to pick him up from the high chair. He then proceeded to throw up all over me.
At that moment, we were the ideal American family. One kid holding his hands over their ears saying, "Mommy make it stop." A second child completely in her own world. And the third covered in vomit.
My husband and I did what we always do in a tough spot, we hysterically laughed. Then, leaving the waitress a very big tip, otherwise known as "combat pay," hightailed it out of there.
I don't think we could even pretend to look like a typical family. And, that's OK with me.
I'm used to being tough on my kids when I need to be and understanding their challenges when that's called for. I have certainly made my share of mistakes and can keep myself up at nights counting them. But since this is my story, I'm not going into them here.
Listening to Tom talk to his brother and sister that day, I heard how I sound to him. And I watched Lizzy and Peter listen and do what he knew they could do. In that minute I knew I had done something right with my kids.
It was the best Mother's Day present I could ever get.
*** Congratulations to the winner of the copy of, This is Childhood,  Estelle of Musings on Motherhood and Midlife.