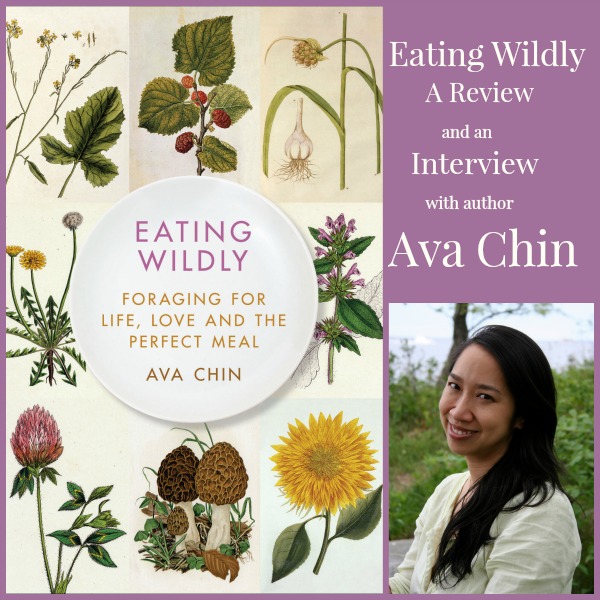 Searching for hidden treasures in the most unlikely places is one of the themes Ava Chin explores in her beautiful memoir, Eating Wildly: Foraging for Life, Love & the Perfect Meal from Simon and Schuster.
Ava weaves her experience of trying to find peace with her untraditional childhood, which includes her father's abandonment of the family and a mother who often ignored her. As a child of New York City, she explored the city's parks and developed an interest in the edible plants and flowers she found.
As she looks to mend a broken heart after the relationship with the man she thought she was going to marry ends, Ava takes us along as she begins dating again. She opens herself up to new romantic possibilities. At the same time, she continues to make new discoveries about edible berries and greens she finds living alongside 8 million New Yorkers. Her exploration of city parks led to her writing a column for the New York Times, The Urban Forager.
I found myself completely swept up in her journey and found myself so sad when it was over. I even toyed with the idea of trying some of the delicious recipes she ends each chapter with. Maybe not with the latest finds from my local Long Island park or backyard but at least venturing to try some dandelion greens at Whole Foods.
I met Ava in February when we both auditioned for the New York cast of Listen To Your Mother, a national series of live readings produced on local stages.
While we both waited to read our pieces in a cramped audition space, we started to chat. I shared about my possessed dishwasher and she told me about her website Ava Chin, and her upcoming book, Eating Wildly. We exchanged emails and hopes that we would meet again, hopefully as cast members.
As it turned out my trip to New York was a little like some of the foraging trips Ava describes in her book, when she searched for one thing, but looked a little deeper and found an unexpected treasure. Neither one of us made the cast, but we started a friendship that day that continues to grow.
I was thrilled when Ava asked me to review her memoir and even more thrilled when she agreed to answer a few questions from the Dishwasher.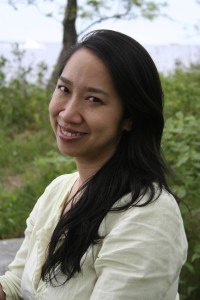 Congratulations on Eating Wildly.  I loved how you weaved your search to find peace with your childhood with the search to find edible foods in the parks around New York.  What got you started on your path as an urban forager?
I was the kind of kid who ate the wild garlic outside our apartment, and one of the few memories I have of my father was going clamming on Fire Island with him, where we dug up clams with our feet. So I think I was predisposed to enjoying wild food by the time I started foraging in earnest as an adult, after breaking up with a boyfriend I thought I'd marry. Foraging really helped me to find solace and come to terms with a lot of heavy issues I'd been inadvertently carrying with me since childhood.
You write very candidly about your complicated relationship with both of your parents. Did you have any reservations about sharing such an intimate journey with your readers?
Writing about family members is always fraught for memoir writers. Especially if there's been divorce or childhood abandonment, the writer might not want to rock the boat for fear of future rejection. But so long as you're writing about your loved ones with compassion and humanity and attempting to tell the truth as you know it, I think anything is up for grabs (see my Advice for Memoir Writers post). It was important for me to be able to tell my own story, and that included the ways in which my childhood impacted my romantic life and my formation as an individual (and urban forager).
Has your mother read the book?
Last winter before final edits were in, I sat my mother down and described each section in which she appeared, in order to prepare her for the book. I gave her the option to read Eating Wildly before it came out, but she declined. My mother is one of the few people that I will alter my writing for if she's upset about something (the other folks are my husband and daughter). To her credit, the discussion sparked memories, and she reminisced about those times in her life. She's recently read it, but she hasn't said anything to me beyond the fact that she thinks my writing style has become more lyrical.
When your daughter is old enough to read your book, what's one thing you would like her to take away from it?
I hope that our daughter will see the ways in which each woman in our family—from my grandmother and mother to myself—handled adversity in her own way and remained strong and consistent throughout. With plants, there is always a mother plant, around which the daughters spring up. I see my daughter's lineage as being connected to each of us going back to my grandmother and beyond. Despite the fact that my daughter never met her great-grandmother, she knows her because I was so inextricably informed by that amazing woman.
Also, I want her to know about the great abundance and diversity in Nature that's all around us. It's just a matter of walking your path, keeping your vision open, and noticing what's truly there.
What is your favorite edible plant to find on your travels?
Morel and maitake mushrooms. I just love them. Morels are out in the spring (we're in the last few days of the season) and maitakes are out in the fall. I go crazy over both of these wild edibles.
What advice do you have for someone who would like to start eating wildly?
Newbie foragers need to be shown how to forage by expert naturalists. Luckily, there are more and more guides who are leading foraging tours across the country. If you're interested in mushrooms, I encourage you to join your local mycological society. There are also several helpful foraging guidebooks like Ellen Zachos' Backyard Foraging and Leda Meredith's Northeast Foraging. I have a handy phone app called iPlant that I also love.
If you start with something small and familiar like dandelion greens, it's easy to grow your repertoire (with the aforementioned help from others).
Many thanks to Ava for spending some time with me and the Dishwasher!
I adored this book and highly recommend it. In fact even though I was provided an advanced digital copy of Eating Wildly, I bought the hardcover for myself because I really wanted to be able to hold it in my hands and go back through the pages.  Plus there is always the chance I might get brave and actually try one of Ava's recipes. You can get your copy by visiting Ava's website and clicking here.
* As stated before, I was provided a digital download of Eating Wildly. No other compensation was provided and of course all opinions are my own.
** Update, 9/13/16: Ava's book is now available in paperback and can be found on Amazon