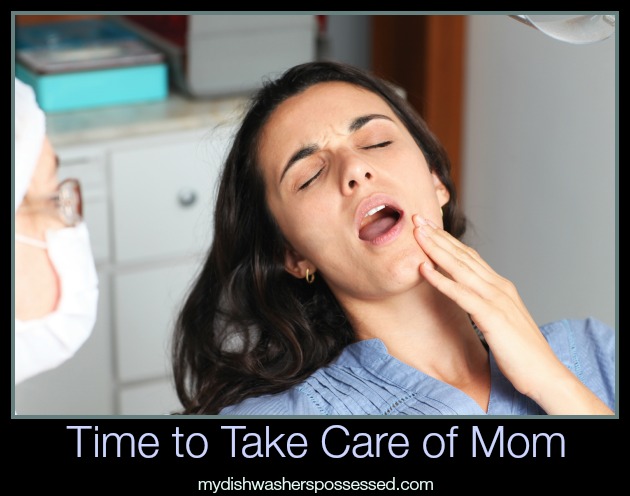 Can a seriously abscessed back molar be the painful lesson that finally teaches this busy mom of three the importance of taking care of herself?
My oral surgeon hopes it is.
As he worked on my very infected tooth, he gently reminded me that this didn't need to happen. I've been aware that this tooth was badly in need of a root canal for more than a year. Knowing that I'm a blogger, he then suggested that I write about this experience in order to help other busy, stressed-out moms that keep putting their own needs on the back burner.
"You should do the piece as if your tooth is writing it. You know, like I tried to warn you last year when you bit down on that apple and you felt pain, but you refused to listen. Or, I tried to let you know how much I needed a dentist when you drank that iced coffee a few months ago, and you felt that blinding pain, but you just kept ignoring me until I had no other choice but to become so infected that you could no longer ignore me."
The man makes a really good point. He also isn't the first doctor to give me the if-you-don't-take-care-of yourself, how-are-you-going-to-take-care-of-everyone-else speech.
It isn't that I purposely put myself last on my list. But taking care of three children can keep a mom on her toes. Homework, projects, after-school clubs, check ups, visits to the eye doctor, dentist, and orthodontist take up a lot of time and energy.
Not to mention all the appointments I've had to cancel for myself because one child ends up with a stomach virus, or as I'm leaving the house to go to the dermatologist, the school nurse calls to tell me that the kid who was running around singing not three hours before is now in the office with a 103-degree fever.
Just like most moms I know, I'm a great caretaker of others, I'm horrible at taking care of myself.
I've been thinking of how to change this. After all I do want to be healthy and around for my family for a very long time. How do I start to put myself on the top of my list?
It occurred to me that I could take a page out of my mommy playbook and use it on myself.
Here are some of the things I'm considering:
To help my kids learn our phone number and address and remember to wash their hands and brush their teeth I have made up little songs for them. Using the tune of This Old Man, I'm going to start singing this to myself whenever I'm in the car:
With a knick-knack paddy-whack, Kathy give a damn, your own health is your hands.
Just like a lot of other parents, I've resorted to using charts and stickers to get my child to stop using their pacifier or bang on the table instead of using their words. After five Barbie or Spiderman stickers were earned, they would get a treat, such as bottle of bubbles, a book or date with mom. Maybe for every time I go to the gym or keep an appointment for myself, I could get a George Clooney sticker and then when I get five, I could  get a manicure, new lipstick, or a  pair of shoes.
I'm also a master at reminding my three darlings 1 million times a day to brush their teeth, go to bed, do their homework, and put their coats away. My teenager calls this nagging. Perhaps I can start doing the same thing to myself:
Kathy, have made your appointment? Come on, let's get to it. Kathy, Kathy. Kathy. Don't you dare cover your ears and tell me you are not listening to me. Come on, it's time. Call. Call now. Now.
And then of course, there is always the age old mommy trick of pulling out the big guns and start taking away iPhones, favorite movies, TV shows, and play dates. The next time I cancel my doctor's appointment, I'll have to ground myself–no Mad Men, The Good Wife, or coffee with friends until I've rescheduled and kept the appointment.
Since I've had varying degrees of success with all of these these techniques with my kids,I can't promise that my transformation will happen overnight. But even I have to admit that when your dentist resorts to advising you to write an essay in the voice of your infected tooth, it's probably time to start taking care of yourself.