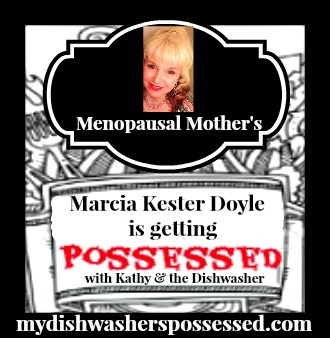 Happy first day of Spring! Welcome to the 11th installment of, Getting Possessed with Kathy and the Dishwasher.
Each month I beg, I mean very nicely ask, one of my blogging friends to spend a little time with the Dishwasher and me.  I always have so much fun getting to know these amazing writers a bit better and of course the Dishwasher loves to hear about other possessed appliances that reside across the country.
This month I am so excited to introduce you to the wonderful Marcia Kester Doyle of the fantastic blog, Menopausal Mom.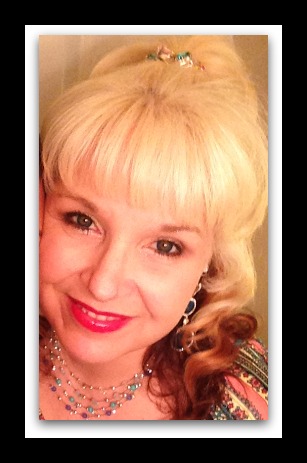 Marcia and I met as fellow contributors to  Sunshine After the Storm : A Survival Guide for the Grieving Mother. I instantly fell in love with her ability to move me to tears at times with pieces like, The Box ,(which is in Sunshine After the Storm), and  The Sister Bond , yet can also make me double over with laughter with her essays,  Neighbors from Hell,( in In The Powder Room) and You Might Be Menopausal If.
Marcia, Menopausal Mom is such a great name for a blog, how did you come up with it?
When I started going through menopause, the symptoms were making me insane and I wanted to connect with other women who were going through the same, awful experience ( Misery loves company). Writing has always been an outlet to express my frustrations, so why not reach out to some equally frazzled, hot flashing women?
Is this your first blog?
Yes. It started off as a sounding board for middle-aged women but I felt that I was limiting my audience, so I began writing on a variety of topics that appealed to both young and old, male and female.
Marcia what are the three pieces that you feel best define you and your site?
I think one of my funniest posts is Living Large in Zumba Land This depicts the humorous side of being middle-aged and trying to do things that younger women accomplish effortlessly. I also love a poignant one I wrote awhile back called, A Letter to My Younger Self, It sums up so much of my life. For a more humorous look at my struggles with menopause, my favorite is a post titled, 10 Reasons Why I Love Menopause.
How does your husband and kids feel about your blogging career?
When I first started blogging, my family complained about the amount of time I spent in front of a computer.
I'm going to embarrass myself here and admit that I had NO CLUE how to turn on a computer two and a half years ago!! I took a class and a few months later started my blog. I was obsessed with it from that point on.
Nowadays my family is used to foraging in the refrigerator for freezer-burned hot dogs and watching me spray Febreze all over their clothing to mask the fact that I haven't done a load of laundry since the summer of 2011.
I love that you had no clue as to how to turn on a computer before you started blogging and your home-keeping skills have gone by the wayside too! Always great to find a kindred spirit.
Marcia, you have 5 chinchillas, a rabbit, 2 pugs and a pomeranian, plus you live in a home that has been certified as a wildlife sanctuary, have you always had a love of animals and nature or it is a new passion?
I grew up in a household similar to Dr. Doolittle's home. We owned cats, dogs and a crazy toucan, but the real fun began when my sister took a job at a wild bird care center. On any given day, it wasn't unusual to find a pelican in the shower, a vulture on the desk and baby bats curled up on the bed. I couldn't imagine a life without animals, so I started a menagerie of my own after I got married.
Once the kids grew up, I still had those strong, nurturing instincts, so I ended up channeling my inner Snow White and adopted quite a few stray critters. My husband would argue this point and say that I have started a small petting zoo aboard the mini Noah's Ark we call home. I take care of all the outdoor wildlife as well, providing food and shelter for anything with wings or four legs. This would also explain how I earned the nickname, "The Squirrel Whisperer."
I don't think I have ever known a "Squirrel Whisperer" before! Very cool.
Marcia as you may know I always give the Dishwasher a chance to ask a few questions. Since you do have such a full house and full life, the crazed appliance would like to know if there is one household appliance that you could never live without?
My refrigerator. Not only does it hold my secret stash of chocolate chip cookie dough, it also doubles as a source of entertainment for my youngest teenager. He opens the double doors every ten minutes in the hopes that something tasty will magically appear on the shelves.
What is the first appliance you ever bought yourself?
A microwave…..back when they were still "new" and considered futuristic. Yes, I am from the Jurassic Era when we used to have to heat our food on a stove or in the oven for thirty minutes.
Ah, the stove, yes I remember it well!
Okay, here is the million dollar question, have you ever had a possessed appliance?
I have a possessed stereo and ceiling light, but I guess those don't count.
Of course they do!
I don't want ANY of my appliances to become possessed. The last thing I want to do is wake up in the middle of the night with my stove standing over my bed with all four burners lit. It's obvious that growing up watching countless episodes of The Twilight Zone has had an impact on my life.
Well since I  not only own a possessed dishwasher, but I let it ask questions of my guests, I guess you know what I watched growing up.
Marcia what  is the best present you ever gave yourself?
My two, adorable pugs, a bunch of chinchillas…..and a very large jar of Nutella.
What does being possessed mean to you?
There is a fine line between being possessed and being obsessed. I think of possessions as a time when something or someone controls your thoughts and actions. It leads to an obsession.
When that little diet-cheater voice in my head tells me to go ahead and take a small bite of key lime pie in the fridge, I'll do it. But then I become obsessed with it and eat more and more until it's all gone. When the family asks what happened to the pie, I blame it on the dog.
Always a good plan!
What possesses you right now?
The sweet siren song of chocolate. Blogging. And a lot of wine.
Is this something that possessed you five years ago?
I was BORN chocolate possessed.
Perfect. Just one more reason to love you!
What do you think will possess you five years from now?
It will still be chocolate, wine and writing. All three together are a heavenly trifecta.
Many, many, thanks to Marcia for getting possessed with Dishwasher and me today. Do yourself a favor and check out Menopausal Mom, you will be very glad you did. And don't forget to follow her on, Twitter Facebook,  Pinterest and Google +