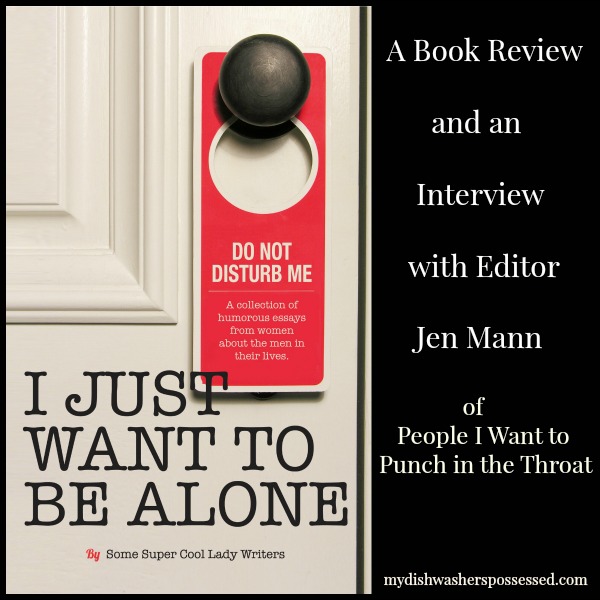 Is your husband driving you nuts again?
Or, are you filled with love for the man you promised to love in sickness and in health?
Whichever way you are feeling about your better half, you're going to find an essay to relate to in, I Just Want to Be Alone. This is a great collection of pieces about marriage from some of the best lady writers on the web.
The brainchild of Jen Mann, the blogger behind, People I Want to Punch in the Throat, the book is a follow up to her successful anthology on motherhood, I Just Want to Pee Alone, and includes many of the same women.
The essays cover the good, bad, and messy parts of sharing a life with a man.
Being a fan of many of the writers featured in this book, I expected to have a lot of laughs, and I did.
Lisa Newlin of, Lisa Newlin…Seriously had me in stitches with her essay, That's Beans Bitch, about how she has survived cooking for her very picky husband by lying to him about the ingredients she uses in her kitchen.
I actually had tears in my eyes when I read Cleanup in Aisle 4, by Suzanne Fleet of, Toulouse and Tonic. Her recount of the time she completely ruined her then boyfriend's, now husband's, hair by coloring it herself is hysterical.
I must admit though, I was not expecting to find so many touching, sweet and even dare I say, romantic, essays.
True Love Story by  AK Turner tells the story of how she met her husband on a 10-day vacation. Three months later, she turned her life upside down to move in with him. She had to drive cross country with her mother to do it.
Raquel D'Apice of  The Ugly Volvo shares how she met and fell in love with her husband, a great guy who she really liked, despite the fact that he had no fashion sense whatsoever, in her essay, Project Runway.
As I made my way through the essays, I found myself nodding in agreement, frequently smiling, and often laughing out loud. Whether you have the time to polish it off in one sitting like I did, or just attack an essay or two each time you can eke out a minute to yourself, this is a fun read that will leave you wishing for more.
Jen was kind enough to sit down with The Dishwasher to explain how the book came together.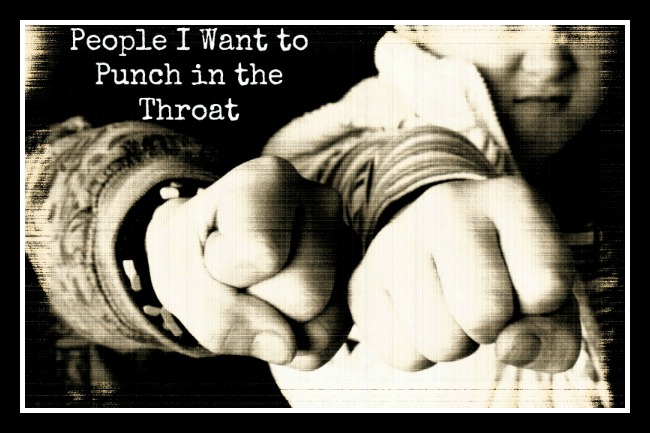 Q. I Just Want to Be Alone is your third book and second anthology. Does creating a book get any easier the third time around?
A. I don't know about easier, but there were fewer surprises this time around. When I wrote and published Spending the Holidays with People I Want to Punch in the Throat, my husband and I learned a lot by trial and error. When I had the idea for I Just Want to Pee Alone, we took some of the knowledge we'd already learned about publishing and applied it. We still had some surprises, but not as many. This time around, it was still a lot of work to get it done, but at least we didn't have any snafus pop up.
Q. You have tackled the holidays with, Spending the Holiday, and the good, bad and messy parts of motherhood in, Pee Alone. What made you want to tackle marriage this time around?
A. This one was actually my husband's idea. I Just Want to Pee Alone was mine. I knew I wanted to do a follow up, but I wanted a new theme.
My husband and I work together all day, every day, just the two of us, and one of my complaints is that I'd like some alone time. I'd pay him to take a business trip. When we were talking about new themes, he suggested the desire to be alone with the emphasis on husbands and boyfriends rather than kids.
He knew I'd have no trouble throwing him under a bus. I write about my husband a lot on my blog, and my readers really enjoy it, so his idea made perfect sense to me.
Q. Jen what do want women to take away from this book?
A. Well, I think one of the reasons why I Just Want to Pee Alone was such a great success was because there is something for everyone in that book. When you talk to readers, each one of them has a different favorite essay, but they all have one. There was at least one essay that touched them and spoke to them.
I wanted to do the same thing with I Just Want to Be Alone. I didn't want it to be a man-bashing book. I just wanted to create a good mix of funny, hilarious pieces along with touchy feely stuff that I'm incapable of writing. I want women to find a story in this book that they can relate to and that will make them nod their head and say, "Yes. Me too."
Q. After the huge success of Pee Alone, I'm sure you must have gotten a huge amount of submissions for this book. How hard was it narrowing it down to the essays you selected?
A. It was so hard. When I did I Just Want to Pee Alone, I had no idea what I was doing. I only invited as many contributors as I needed. I hand-picked them all and didn't cut anyone.
This time around, I wanted to branch out a bit more and find some new voices, but I also wanted to invite everyone from I Just Want to Pee Alone to submit again. It was ridiculously hard to choose. Everyone's essay was great as a stand-alone, but I had to pick the essays that would work together best with one another. I kept reading and re-reading and shuffling essays around to find the best possible book I could publish.
It was hard to tell people who you consider friends (and even strangers) "No, thank you." As a writer, I know that rejection is part of the business, but it was painful to be on the side doing the rejecting.
Q. What will be your next project?
A. I'm in final edits with Random House right now for People I Want to Punch in the Throat: Competitive Crafters, Daycare Despots, and Other Suburban Scourges. It will be released in September.
I've also sold, Spending the Holidays with People I Want to Punch in the Throat, to Random House, and I'm working on adding new chapters to the existing book. They will re-release it in fall 2015. I'd love to do another anthology somewhere in there, too. I have a lot of fun doing these, and I don't want to stop.
Many thanks to Jen for spending some time with us. Do yourself a favor and buy a copy of I Just Want to Be Alone. It's available in a Kindle version, and soft cover.
*Note: I was provided an advanced digital copy to review, no other compensation was provided