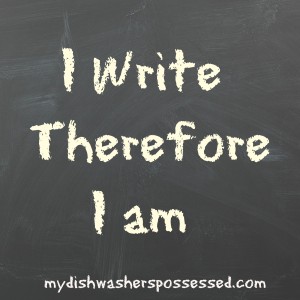 Well it's Sunday morning, and I'm sitting at my desk, typing away, hoping that something brilliant will magically appear on my computer screen.
So far, nothing brilliant has appeared.
Still I sit and type because it's Sunday, and I have a deadline.
I've tried to come up with an idea, but nothing will come.
Should I write about the snow?
No. It's been done.
What about… Nothing.
I will myself to keep going. I must make my deadline. Legions of my fans will be crushed if they go to their computers tomorrow and don't see a new post from me and my dishwasher.
OK. Maybe not legions of fans. Perhaps only one or two will notice if I don't post something new.
My mother would notice, but she doesn't always read my blog.
Truth be told the only one who would probably know I didn't meet my deadline and publish something this week is me.
And for the first time in my life, that is the only person who matters.
When I started my blog three years ago, I made a promise to myself that come hell, high water, or stomach viruses, I would write one essay each week.
It didn't have to be the best thing I ever wrote. It could even be a piece from the past that I "re-visited," but it had to be something.
I did this because I have a habit of letting myself get sidelined.
After all I"m a mom. I tend to put the needs of others before mine. That's my job. The job I happily signed on to 15 years ago. A job I love.
A job that is starting to change.
My kids are getting older. Tom, the baby that started my adventure into motherhood is 15. Our daughter is 12, and even the baby of the family isn't really a baby anymore. He's six weeks shy of his ninth birthday.
Though It may feel as if I will never have a morning when I"m not fielding questions of what are we having for dinner–when it's only 5:00 am–or reminding someone not to kill their brother while I'm still half asleep, I know soon enough, my house will be quiet again.
So I write.
I write to remember a time before I had children. There was a time when the biggest decision my husband and I had to make was was where we should go to dinner that night.
I write to remember the days, weeks, months, and years I was desperate to see a beating heartbeat on a sonogram.
Or the day I was three months pregnant with my first baby, and could find nothing to wear to work. I grabbed a maternity jumper a friend gave me and swore she wore from the minute the stick turned pink till she delivered her daughter.
My boss took one look at me and with as much kindness as he could muster, asked what the heck I was wearing. I replied with as much confidence as I could muster, "My husband said I looked good." To which he answered, "Did he really look at you?" I cracked up and went out to buy maternity clothes the next day.
I write to remember what it was like to be a new mother and have no idea what I was doing with the sweetest baby ever to live.
How I would go into the nursery to change Tom's diaper while Good Morning America was still on and it would take me till the next program was almost over till he was finally dressed.
The days when I would look at him and wonder what the heck he and God were thinking picking me as his mother.
I write to share some of the experiences we have had raising a daughter with significant special needs. Sometimes sharing the harder days of watching our beautiful daughter struggle with a disorder that has no name.
Sometimes sharing the funnier days, like the day Lizzy decided to tell me to go jump in a lake during Christmas dinner at my in-laws. Everyone laughed and told us how happy they were that she was doing so well.
I write to reclaim a piece of myself. Perhaps to find a new career path when my job as full time caregiver is over and I become more of a consultant to my growing kids.
I write to remember that I am more than a mother, a wife, a  daughter, a sister, a friend.
I write each Sunday hoping that when I hit publish this will be the piece that goes viral and will bring many people to my humble little blog.
I write each Sunday hoping that when I hit publish I will entertain or touch at least one person.
And I write and hit publish each Sunday because I made a promise to myself that I would.