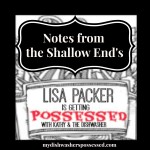 Welcome to the 10th installment of, Getting Possessed with Kathy and the Dishwasher. I'm so excited to be bringing you the 10th victim in this series in my brand new home on the web!
I started doing these interviews back in August as a way to introduce my readers to some of the amazing writers and bloggers I have gotten to know in my three years of blogging. I love sharing these talented women with you. And of course the Dishwasher adores the opportunity to learn about the many possessed appliances that reside all over the country.
I am very excited for you to meet Lisa Packer of the wonderful site, Notes from the Shallow End.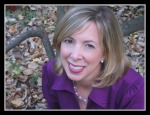 Lisa and I met in a writers group that we both belong to and I quickly fell in love with the way she weaves a  story. Whether she is wondering if maybe Ethan Hawke got eaten by the snake? or asking the very critical question, do swim meets have bars?, she never fails to make me laugh.
She started Notes from the Shallow End in August 2012, the same day that her son started kindergarten. But she says that it was living in her head for a couple of years before she found the right time to start actually writing it.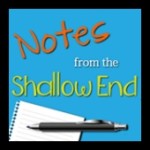 Lisa I love the name of your site, how did you come up with it?
It's kind of convoluted. I was at a party, and I met a woman who as it turns out goes to the same pool as we do. Somehow I'd never seen her before, though.
Turns out she has kids who are much older that my kids; as she put it, "Oh, I sit on the other side of the pool." It conjured up images of all of these carefree women on the "other" side of the pool, getting pedicures, reading, and swilling Champagne, while the rest of us on the shallow side (i.e. with small children) were slinging juice boxes, changing swim diapers, pulling up wet bathing suits, and trying to make sure our kids don't drown.
I realized then that I'm a shallow end mom, at least for the foreseeable future. I knew I wanted to keep the blog light and humorous, so suddenly something just clicked.
Wow, I totally want to be on the other side, sipping Champagne and getting pedicures!
Is this your first blog?
Absolutely. I had no idea how all-encompassing blogging would be, so I'm glad I didn't start it when my kids were younger. Now that they're in school during the day, it's a different story. I've had so much fun with it that I've become delusional, and I'm in the process of starting up a second one. Someone should probably stop me, as I obviously need some sort of an intervention.
I totally agree with you on that one. I was surprised how easily I got obsessed with it and I too am very glad I waited till my youngest was in school. I can't believe you are starting a second one, but since I'm a huge fan of your writing, I'm thrilled!
How does your family feel about your site and their appearance in it?
My husband is bemused by the whole thing. He has a good sense of humor about himself, which helps. But it's the stories he hasn't given me permission to tell (yet!) that are the best. I'm working on that.
Honestly, the younger two kids could care less about the blog. They ask me once in a while what I'm writing about, but that's about it. My older daughter, though, is a different story. She's my biggest fan, and wants to be featured even more on the blog. As she put it once, "I'm like a comedy gold mine." (No lack of self-confidence there, I can tell you.)
Are there any things that you feel are off limits as a family life blogger?
Honestly, anything that I feel would embarrass them either now or down the road is off limits. So, you won't find poop stories on my blog. (Unless they're about me. I have no problem throwing myself under the bus for a laugh.) I also have chosen not to use my kids' photos or real names.
That was a big reason why I waited so long to start the blog. I had to figure out a way to do it that wouldn't compromise their privacy or their safety, and that I felt completely comfortable with. I know a lot of bloggers are more comfortable with giving their families an online presence, but it wasn't right for me.
I didn't start out using my kids names or pictures of them. But as time went on my husband and I decided it was right for us. You are so right, we all have to decide what is best for ourselves and our families.  
Okay, as you may know I always give the Dishwasher a chance to ask a few questions so before the crazed appliance starts making a fuss, what is the first appliance you ever bought yourself?
Oh, gosh, you mean like a major appliance?  Probably the washing machine. I remember it being such a big deal… like that was such a grown-up thing to do.
You know you've crossed the line into responsible adulthood when you're in Home Depot cooing over washing machines, and saying things like, " But can we afford the IQ Touch controls and the turbowash?" (My nineteen year old self just cringed.)
Yes, I  never thought I would get so excited over appliances, never mind having a blog named after one!
Lisa, what is the one appliance that a mom of three can not ever be without?
My flat iron. The older I get, the curlier my hair gets. But not in a good way, in a very bad home perm kind of way. Flat ironed, my hair says, "pulled-together- professional- who- can -get- the- job- done- for- you". Un-flat ironed it says, "scatterbrained- bohemian- Junior High- art teacher who- may- be- wearing- two- different- shoes."
Perfect!
Okay, here is the million dollar question, have you ever had a possessed appliance?
Well, the washing machine hops across the laundry room floor and winds up somewhere in the middle of the room every time we use it. But I think that may be more of a balance issue than a demonic spirit.
I wouldn't like an appliance to be "possessed" so much as "enchanted".
And it would definitely be the dishwasher. And by that I mean I want it to all of the dishes to get in there on their own, and then put themselves neatly away in the cupboards when they're done being washed. Kind of like in Beauty and the Beast. I really don't think that's asking too much, do you?
Not at all!
Lisa what is the best mistake you ever made?
You know what? I don't think of mistakes in those terms. If I make a mistake, and it turns out that something good ends up coming from it, then I no longer see it as a mistake.
There's a song I love called "The Broken Road" that pretty much sums up my philosophy. I'm a big believer that everything happens for a reason.
I love that answer!
What does being possessed mean to you?
Aside from the obvious, Linda Blair-esque connotation? To me, being possessed means an all-consuming obsession. The kind that makes you want to check out every book in the library about it, to research it to death on the internet. To spend your days doing it and to lay awake nights thinking about it.
What possesses you right now?
Writing, writing, and writing. Oh, and because it's The Winter Sent from Hell by the Devil Himself? Eating, eating, and eating. Like, seriously, I should just park a chair and a desk in front of the pantry cupboard with a chute directly to my mouth. Curse you, Costco brand trail mix. Curse you.
Lisa is this something that possessed you five years ago? (The writing, not the eating!)
Five years ago I was writing, but not for an audience. I had to find the courage to put myself out there. I'm so glad I did, because it's changed my life.
What do you think will possess you five year from now?
My goal is to have a regular column, even if it's just in a local publication. So, hopefully I'll be possessed by writing deadlines.
Lisa thank you so much for spending time with Dishwasher and me. One last question, what are three of your pieces that best define you and your site?
Well, since I'm scattered, and a bit awkward, and look the humor in almost any situation, any posts that are humorous at my expense tend to best reflect what the blog is about. Also any posts that reflect the humorous reality of daily life in this crazy house. Here's a few in particular:
I Think the Ants are Plotting Against Me
I Think I've Poisoned My Own Eyes
Jamie Oliver You're Dead to Me
Many Thanks to Lisa again. Do yourself a favor and check out Notes from the Shallow End you will not regret it! You can follow her on  Twitter, Facebook, Google + and Bloglovin.