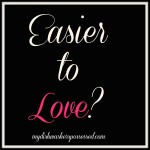 I adore being a mother. It's the job I always wanted and one that I feel I'm really good at.
Am I the perfect mother? Of course not. I don't even come close.
But I've always felt that motherhood fit my personality and talents well.
That is, I used to feel that way.
This September our eldest child, Tom, started high school and then a few months later turned 15.
It's not that I wasn't warned that the high school years would be challenging. I was.  I guess I just thought that since Tom and I have always had a strong relationship, we would easily and effortlessly work through problems that came our way.
I will now give all of you who have parented a teen time to laugh at my innocence.
The closeness that Tom and I have always enjoyed has not completely left, but the conflicts that come up between the two of us, and the anger we can feel toward each other almost on a daily basis, surprise us both.
At the same time that my relationship with Tom has changed, my relationship with my youngest child is entering it's golden age.
Peter is eight, and though his habit of asking questions such as, Can I build a swimming pool in the basement? or Can I go to Mars today? Or telling me that he can't find his wife and he needs one this minute, drive me batty, they also delight me.
The easy relationship that I once had with Tom, I am now enjoying with Peter
Not surprisingly this had caused a conflict with not only Tom and I. It has also changed the relationship that Peter and Tom have.
Not a day goes by that I don't have to remind Tom that killing his younger brother is not a good idea, or remind Peter that waking his older brother up at 5:00 in the morning is a good way to guarantee that he will not see his ninth birthday.
Their fighting has become a constant presence, and I'm not prepared for it. They have always had a great friendship. Now one minute Tom might be teaching Peter how to play chess, or they might be listening to the Beatles together, and the next minute I hear furniture banging and Peter running down the hallway to escape the wrath of his brother. More often than not, he has a big smile on his face.
I find myself constantly yelling at Tom to stop being so darn mean to Peter.
"Mom why are you always taking his side? It seems like you love him more than you love me."
I explained to him that this was not possible. Just like I can't love my right eye more than I love my left eye, I can't love one of them more. They're both a part of me, and my life is far better because they're both it it.
I feel for Tom. I know that he's experiencing growing pains. As much as he may want more independence and distance from me, he also misses the closeness that he sees me having with his younger brother.
Truth be told, he isn't entirely wrong.
No, I don't love one more than the other, but at this point in time, Peter is easier to like.
He's still at an age where mommy can make the world a better place just by giving a hug or a reassuring word. Peter's problems are easier for me to fix. He may like to explore the world, but I still make it go around.
This isn't true when you are 15.
My heart broke a little when I realized this. I never want to be the one who causes my sweet son pain. I thought back to the little boy who would ask me to dry his tears before I left him at preschool or who would say I was the prettiest mom in the whole world.
Later that night when he came to say goodnight to me I hugged him a little tighter and told him it would be alright. And in that moment I know that he believed me.