Happy New Year and welcome to the ninth installment of,
Getting Possessed with Kathy and the Dishwasher.
In my three years of blogging I have been very fortunate to meet so many amazing writers and bloggers.  I love that through this series I can share a few of these talented women with you. The Dishwasher adores the opportunity to learn about the many possessed appliances that reside all over the country.
I am thrilled to start 2014 off with my 9th Victim, the amazing and very funny writer, Darcy Perdu who blogs over at, So Then Stories.
Darcy was named a BlogHer Voice of the Year for 2013 for humor for her hysterical post, A Diamond in the Breast, which recounts her experience of having a mammogram in a way that will have you on the floor laughing, and then have you making your own appointment in the hopes that you too will have such a tale to tell.
She never fails to entertain me and I really can't get over that she is still a relative newcomer to the world of blogging since her site just celebrated it's first anniversary.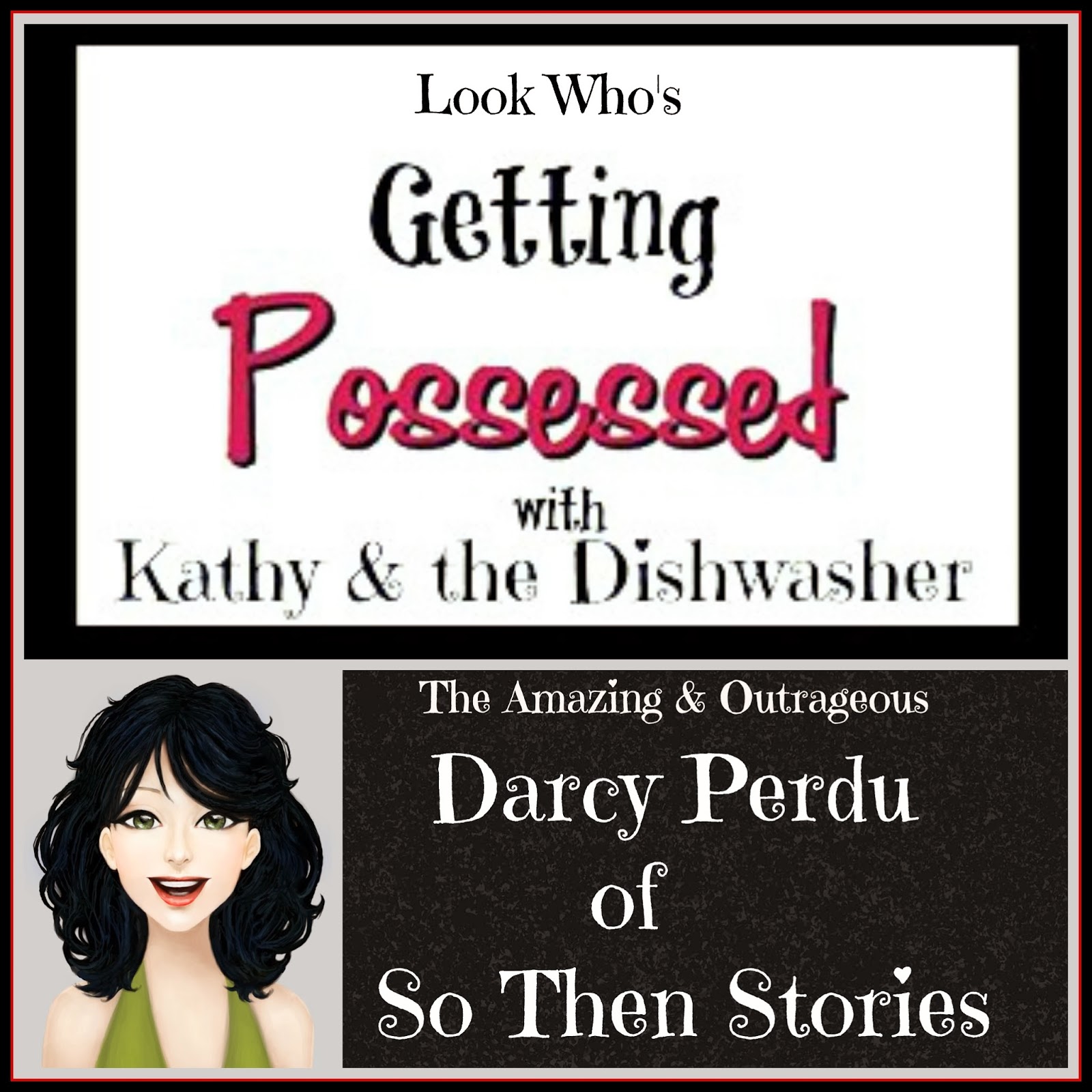 Darcy what do you enjoy most about your blog?
The hilarious comments! At So Then Stories, I post a quick funny TRUE story, then ask readers to share their related experiences. I crack up daily at the funny comments and tales the readers post!
I started the blog because one of my favorite things to do is sit around with family and friends, sharing funny stories about our jobs, kids, relationships, and random events. Amidst the laughing, mocking, and teasing, it's amazing how many anecdotes remind others of related experiences.
When someone shares an embarrassing encounter with a cop over a speeding ticket, it reminds someone else of the time they almost got arrested at a heavy metal concert, which reminds someone else of seeing a fading rock star buying pickles at the Piggly-Wiggly – and the stories just keep flowing from there! So the blog is like one big party where everyone is laughing and sharing funny stories.
You have so many outrageous, "So Then Stories", on your site the Dishwasher and I would love to know if you have any about a possessed appliance?
Yes! When a swift kick didn't fix my possessed dishwasher, I turned to my friends for advice – and laughed out loud at my neighbor Dan, whose response was sure to get him sent to divorce court. For the quick funny story check here.
Excellent!
What is the one appliance you think your life would be better without?
Freezer. Then I wouldn't be tempted by a nightly ménage a trois with Ben & Jerry.
Okay, given that answer the Dishwasher is a little nervous asking this next question but here goes, what is one appliance that you would never want to live without?
Vibrator, obvi.
We knew one day somebody would give that answer.  The Dishwasher and I bet you would be the one to give it.
Okay, moving right along, what is the best decision you ever made for yourself?
When I said "no, thank you" to:
The waitress at that sketchy roadside diner who asked if I wanted the fish special.
The friend who invited me to join a super-awesome multi-level sales opportunity.
The married boss who invited me out for tequila shots.
The creepy photographer in college who invited me to pose for him (tastefully).
When I said "yes, thank you" to:
The husband who said, "Let's make some babies!"
The waitress who said, "Would you like hot fudge on that?"
The awesome blogger who said, "Would you like to be my next victim in the Getting Possessed with Kathy and the Dishwasher Series?"
Perfect!! And now I totally forgive you for the vibrator!!
What does being possessed mean to you?
Being possessed makes me think of the wild-eyed, laser-focused demons who stop at NOTHING to achieve their goals – ala "Must.Eat.Brains. Must.Eat.Brains.NOW." They stumble and stagger – they shriek and shake – but dammit, they will eat those brains! You gotta admire that kind of determination.
What possesses you right now?
Writing! (Oh sure, I'm obsessed with my kids, my relationships and friendships, my job, and all that.) But I also LOVE writing.
"Must.Write. Must.Write.NOW." It's such a passion and so essential to my core, it's hard for me to imagine why EVERYONE doesn't want to do it! My friend told me she had to take leave from her job because of a leg injury, so she'd be house-bound for 4 weeks – and my first thought was "Omigod! You can write chapters for a book!" She looked at me like I was crazy because she said she had no interest in writing – and I looked at her like she was crazy because how could she NOT want to write? (Then I tried to figure out how to break my leg and convince my boss to give me 4 weeks off. No luck yet.) (I may have to break his leg.)
Is this something that possessed you five years ago?
Yes! I've always wanted to be a world-renown best-selling author – I could clearly envision how fabulously charming I'd be on TV talk shows chatting away about my books! Ha! But first I knew I'd have to address this little obstacle.
What do you think will possess you five years from now?
Choosing which of my blue dresses would best match Ryan Gosling's eyes when he escorts me down the Red Carpet to accept my Oscar for best screenplay. (cough cough) What? Too implausible? Mama's gots dreams, yo!
Kathy, thanks for my very first writing-related interview! Maybe my dream of becoming a world-renown author interviewed on talk shows is coming true! (So my dream of Ryan Gosling escorting me to my Screenplay Oscar may not be far behind!) Woot! Woot!
Thank you! If my readers would like to check out a couple of your funny posts, where should they start?
Some popular ones are,Telling His Teacher A Big Fat Juicy Lie! and Super Bad, More Like Super Some popular NAUGHTY ones are, YIKES! Just Found A "Weed" in MY Lady Garden and my most shared post, (706 times, my highest yet!!), Boobalicious and Hilarious!
If you would like to get possessed some more, (and you know you do!) check out these amazing past victims of the Dishwasher:
Victim 1 Norine Dworkin McDaniel