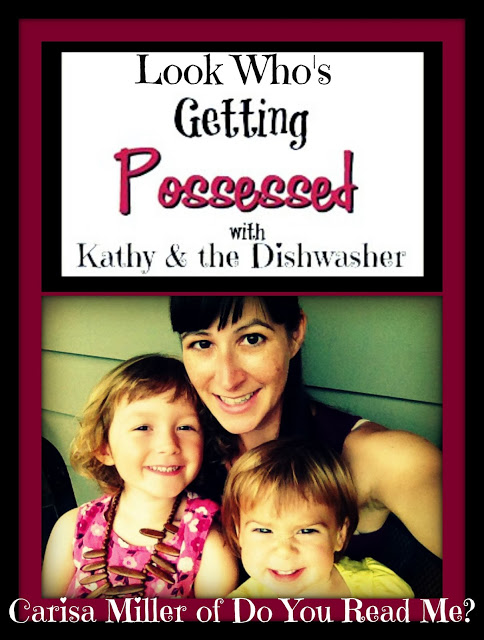 Happy December and welcome to the eighth installment of,
Getting Possessed with Kathy and the Dishwasher.
Since August I have had the fun of exploring the concept of possession with some of my favorite writers. I have loved sharing these very talented women with you and the Dishwasher has had a ball learning that there are many demonic appliances across the country. The both of us look forward to bringing you even more amazing bloggers and their crazy appliances in 2014!
Carisa is another one of the amazing women I have met in my online writers group. We also have the fun of both having essays in the great book about female friendship,
The Herstories Project
.
Her essay,
Leslie and Me
, is a beautiful tribute to her best friend and will leave you filled with gratitude for the special women in your own life.
Carisa has been blogging at,
Do you read me?
, for one year, three months, ten days two hours and thirteen minutes, but that is just an approximate guess.
Carisa as you may know I appease the Dishwasher by allowing it to ask the first few questions. This week the crazed appliance would like to know what is the one appliance that you would never, ever want to live without now that you are a mom?
My robot maid, Rosie.
I wish
. I'm gonna go with popcorn maker. We eat popcorn by the bucketful at our house and making it by hand would be…just about the same amount of trouble as making it in the designated popper. Whoops. I think I failed the question.  
What was the first major appliance you ever bought yourself?
My husband and I bought a new washer and dryer a few years back, to replace the old set that was his parents, from the seventies. The dryer was possessed. No matter how you set the timer, once it started running it would not stop. It was intuitive though: the heating element would turn off eventually, but only after the clothes were dry. Now we've got these new fangled machines with too many buttons that don't clean as well. They just don't make 'em like they used to.
Is that your only experience with possessed appliances?
It just so happens, I am currently going rounds with a refrigerator demon. I'm awful at imitating noises and probably worse at typing imitations of noises but I'll try. Once an hour or so, it goes,  'Wong…wong wong wong…wong.'
Thing is, the fridge is BRAND NEW. I had the repair guy out and he sat around a long while, waiting for the demon, but it never came. So I tried to record it for him. As soon as the warning 'wong' sounded,  I would race over to the fridge, frantically trying to set my phone to record. But I was never fast enough. Then I got smart. A couple nights ago,  I waited until the kids were asleep and set the phone down next to the refrigerator to record the silence. I captured audio of the beast, right around minute thirty three. Now we'll see if the repair dude is any good at Name That Tune.
Carisa you really do have a possessed appliance!! I'm so excited!!! I mean the Dishwasher is. And now that it is extremely pleased, I have a few questions of my own.
What is the best gift you have ever given yourself?
What does being possessed mean to you?
Being driven by an uncontrollable (or seemingly so) force.
What possesses you right now?  
There isn't much that doesn't. Time is short, and I want to do everything. My best friend once explained to me, how painful it was for her to watch me physically attempt to move in multiple directions at once.
Is this something that has possessed you for under a year or over a year?
Let's see…one, plus twelve, carry the three, … I've been this way my whole life. I have twenty-seven tabs open on my computer right now, and I'm using them all of them.
If you are looking for more possession, (and you know you are) check out these amazing past victims of the Dishwasher: