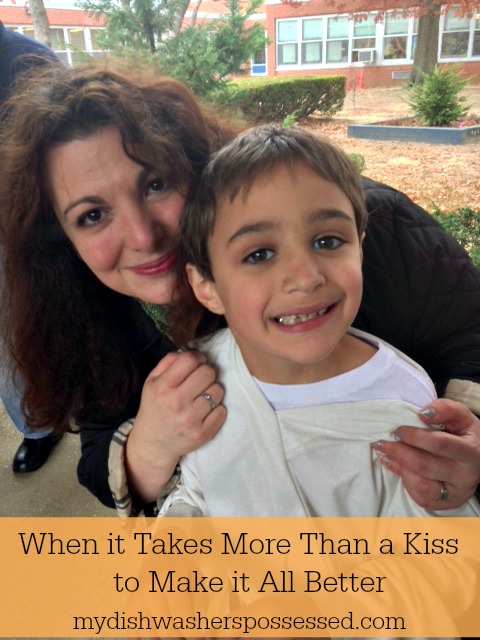 For the last few weeks, I've been feeling a bit sluggish, and my patience with my three darlings has been used up well before lunchtime. I've chalked up my less-than-charming personality to the summer doldrums and the excessive heat. Also, the doctor just told me my vitamin D levels were in the subhuman level, so maybe that's been making me a little more edgy.
But today as I was looking at my calendar I had a revelation, my Mommy Superpowers, the powers that I count on to get me through my more trying days, expired months ago.
I should have guessed it last week when my eyes behind my back failed to alert me to the mess my eight-year-old was creating in the kitchen, but again, I chalked it up to my declining vitamin D levels. Darn.
This is the second time I let my powers expire. I really have to get better about going through the mail. Those reminder cards have a way of getting lost among catalogs designed for the "middle-aged woman" and announcements that I may have already won $1 million.
Well have no fear. Now that I know the problem, I'm putting my order in tonight. And I'm spending the really big bucks this time and going all the way.
Eyes behind the back of my head and super dog hearing are nice, but they don't come close enough to covering what I need, now that my kids are 14, 11 and 8.
Try to keep your jealousy intact. Yes, you guessed it, I'm going for the Super Premium Upgrade. The following is included:
NERVES OF STEEL –  When I last upgraded my special mom nerves two years ago, I was pretty cocky and just went with the basic plan. After all, my original set saw me through, among other things, potty training three children, four emergency room visits, including two ambulance rides, and too many MRIs and blood tests to count for my special-needs daughter. I also survived putting three babies on the big school bus to kindergarten. I am no shrinking violet.
But, in just a year and five months, Tom will turn 16 and will be eligible for his learner's permit from the Department of Motor Vehicles. He's entering high school this fall. I need something to see me through the trauma of first love, driving lessons, and looking for colleges. If ever there was a time to spend serious money on my nerves, this is it.
MOMMY-MAKE-IT-BETTER – Though I still have the ability to kiss and make a cut better or sooth a nightmare with a cuddle, my youngest is eight and those basic skills aren't going to cut it much longer.
Getting older means that the people we love and have counted on are getting older too. We have already seen my beloved father-in-law move out of his house and into an assisted living community and have watched my beautiful aunt go from an independent teacher/choreographer with beautiful long dark hair to a woman ravaged by advanced cancer.
I have had to field many questions about death, dying and heaven. I need the power to sooth more than a paper cut. I realize that the upgraded Mommy-Make-Better powers can only go so far, but frankly I am going to need all the help I can get.
POWER TO BE IN THREE PLACES AT ONCE – If you have more than one child, you always need the power to be in two places at once. In fact it's such a common need that this upgrade has been included in every Mommy Super Power package since the beginning of time.
But I have three kids in three separate schools. And now that they are older and are all involved in different activities and have schools with completely different schedules, this special add-on is worth every penny. Now I will no longer have to worry about how I am going to see Lizzy's play, take Peter to an emergency dental appointment, and go to one of Tom's track meets. The price of this upgrade may make retirement impossible.
I was thrilled to find out that the premium package now includes extra patience, and the Mommy-Go-Faster option. I'm really disappointed that they still have not developed the power to slow down time.
Each day seems to go faster than the last, and my children are growing up at a speed that I really did not think was possible. Babies that I could rock to sleep, and children that I could carry up the stairs and put to bed are now kids that are taller than me and are changing every minute.
Bedtime stories and lullabies aren't in the same demand as they once were. Questions are getting harder to answer and my kisses don't always cure what ails them.
Maybe one day that option will exist but right now, I'll have to settle for enjoying each minute I can. That and the fact that I still need my mommy super powers.
I